The first large-scale
Zhaga

implementation installs 10.000 inteliLIGHT LoRaWAN™ compatible street lighting controllers in Brescia, Northern Italy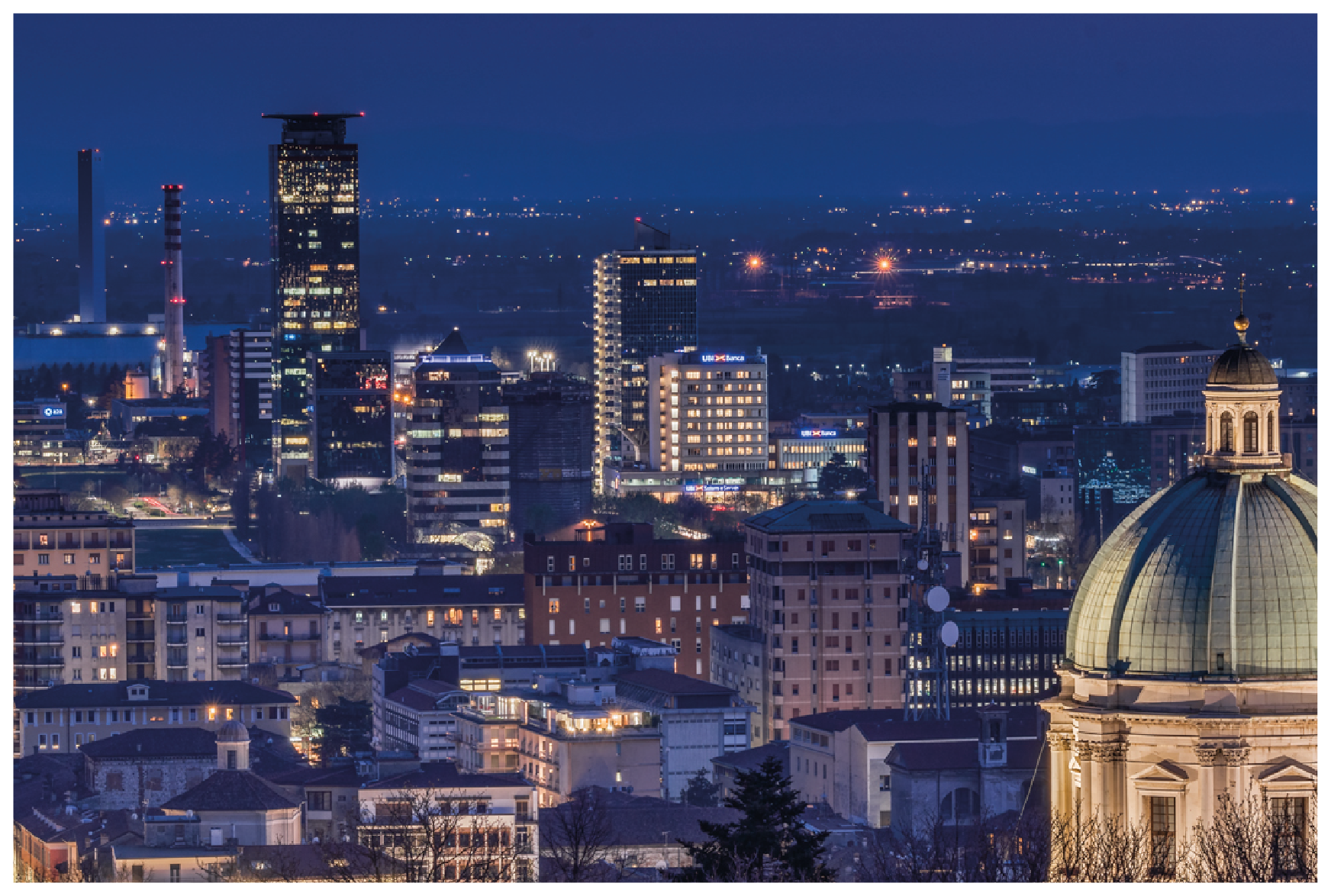 The first large-scale Zhaga implementation installs 10.000 inteliLIGHT LoRaWAN™ compatible street lighting controllers and 600 FRCM lighting cabinet controllers bringing modern street lighting benefits to this iconic city in Italy.
Brescia is a town near Lake Garda in northern Italy, at the foot of the Alps, with a population of 191,523 inhabitants, being the second largest city in the Lombardy region after Milan. Brescia is the administrative capital of the province of Brescia, one of the largest provinces in Italy.
The city is focused on both mechanical and automotive engineering. Being in full process of development, the local stakeholders considered the opportunities of a modern street lighting solution. Thus, it was decided to implement smart technologies, to facilitate industrial development and to increase the number of tourists who choose to visit Brescia every year.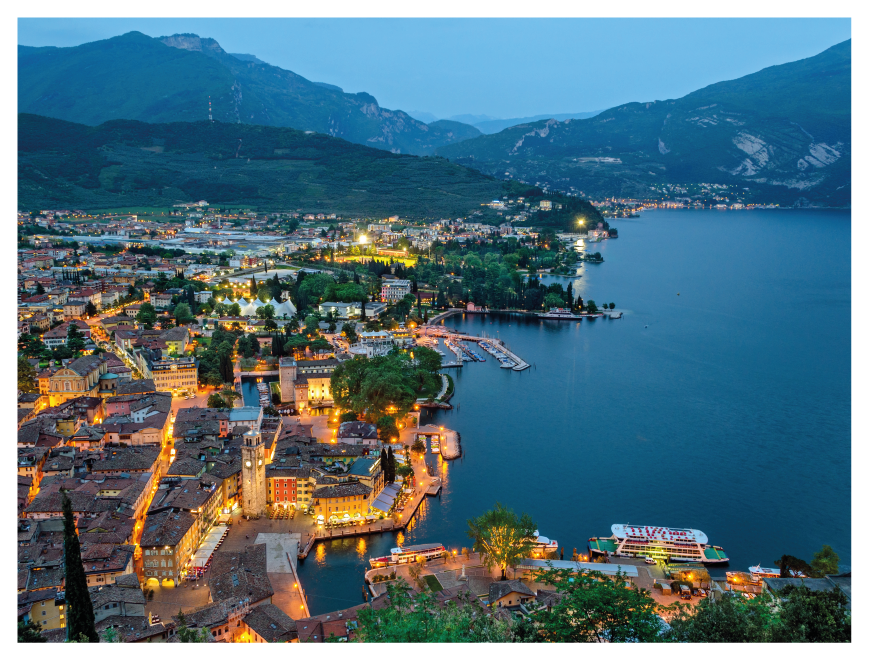 Looking to ensure seamless operation of the street lighting system, combined with hassle-free maintenance and substantial energy savings, Brescia considered to implement a smart street lighting solution. Besides completely autonomous lighting and detailed street lighting information, the municipality was looking for real-time malfunction alerts to increase their capacity of identifying, repairing and even anticipating lighting malfunctions.
Furthermore, they were looking for a fast and reliable solution, combined with a communication technology that can offer long-term functionality in a low-density urban environment. The smart street lighting system might not be the only smart application the city will use in the future, so the chosen solution must ensure flexibility and connectivity, being able to facilitate future integrations if needed.
inteliLIGHT® is an extensively tested solution, already deployed for tens of thousands of street lights worldwide. In collaboration with ENGIE Italy, Flashnet presented inteliLIGHT as the best solution available for the project. Providing autonomous street lighting for more than 60 million of people, inteliLIGHT was appointed as the preferred solution by the city of Brescia: continuous grid awareness, real-time malfunction alerts and dynamic ON/OFF/dimming control. Furthermore, inteliLIGHT ensures autonomous operation based on predefined schedules, light level sensor and adaptive lighting capabilities based on digital input or motion sensing.
The low building density in the area represented the main reason to recommend LoRaWAN™ in Brescia. Covering 5 to 15 km line-of-sight with only one base station in similar regions, LoRaWAN™ proved to be the best choice for the project. Brescia considered essential the combination of existing LoRaWAN™ coverage (A2A Smart City): fast integration, low installation and exploitation costs, without any civil works.
LoRaWAN™ is a Low Power Wide Area Network (LPWAN) that provides bi-directional RF communication. It works over unlicensed radio frequencies and can be installed privately or used with an existing public service. In private installations, the initial cost is slightly higher, but with no subsequent network monthly fee.
The Zhaga socket, more compact than the older NEMA socket, enables individual remote management of streetlight lamps with DALI 2 driver (ON/ OFF/ Dimming). Available for new luminaries as well as instantaneous upgrade for existing lamps, the Zhaga connector eases the implementation in any smart street lighting implementation.
Due to the chosen solution, the implementation was simple and fast: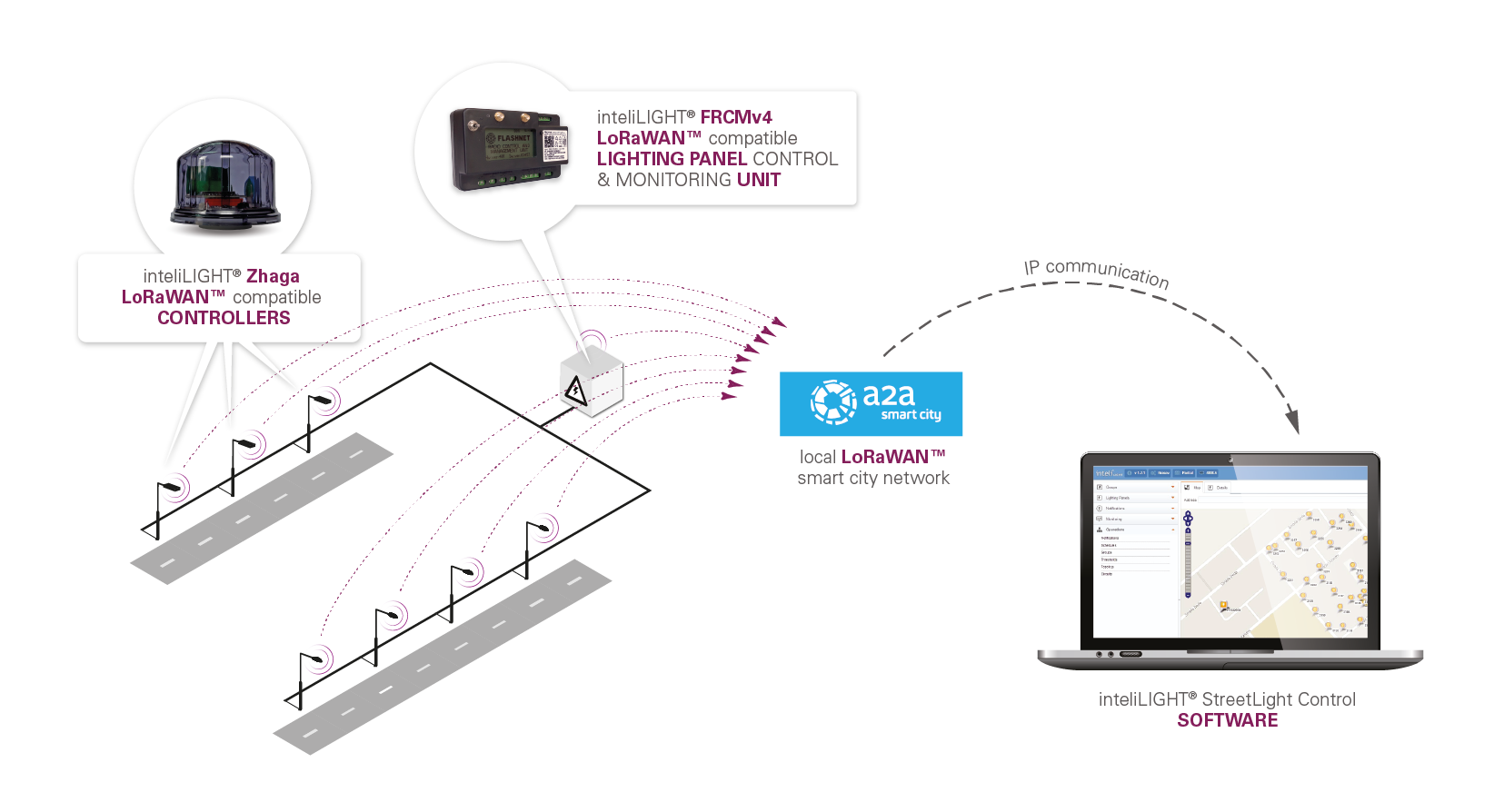 Product Image
Product Description
inteliLIGHT® FRE-24-Zhaga LoRaWAN™ compatible luminaire controller (autonomous operation on astronomical calendar, ON/OFF and dimming control, real-time malfunction alerts, full electrical parameter reading).
inteliLIGHT® FRCMv4-L LoRaWAN™ COMPATIBLE LIGHTING PANEL CONTROL & MONITORING UNIT

Provides remote ON/OFF lighting panel operation and to carry out measurements and analysis of different parameters in street lighting grids. Under/ overpower monitoring, voltage monitoring, phase failure and daytime/nighttime consumption mismatches are reported in real-time to the central server.

Cloud-based inteliLIGHT® Streetlight Control Software, allowing street lighting control, monitoring and maintenance, 24/7 grid monitoring and integration with external applications.
Implementation of the project unfolded smoothly in September 2019 and will continue until the end of the year, conducted mainly by ENGIE engineers and with remote technical support from FLASHNET. Existing A2A LoRaWAN coverage was used, reducing the implementation effort and time to a minimum and avoiding any civil works.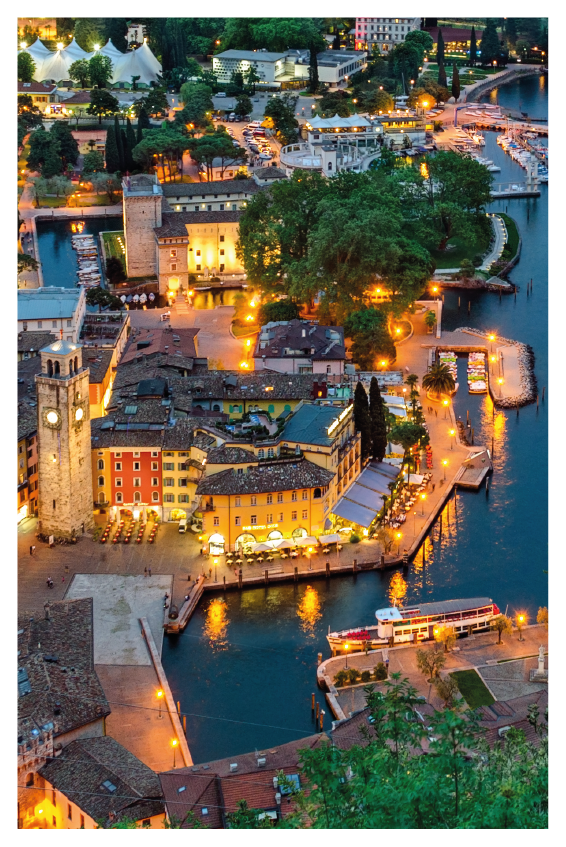 inteliLIGHT®'s street lighting control system reduces energy consumption by up to 35% through intelligent ON/OFF switching and targeted progressive dimming. The street lighting management system functionality was immediately available to Brescia's maintenance staff that now have detailed information on the street lighting grid and can offer improved services while optimizing energy and monitoring costs.
A global energy and services group, focused on three core activities: low-carbon power generation, mainly based on natural gas and renewable energy, global networks and customer solutions. In 2018, ENGIE announced the acquisition of 60% of Flashnet, a Romanian Internet of Things (IoT) company. Thanks to its solutions, many cities, both large and small, already enjoy all the benefits of smart public lighting networks. Learn more on www.engie.com
FLASHNET is a fast-paced tech company that integrates the latest IT, energy and telecommunications technologies into hardware and software solutions, creating and implementing intelligent systems for smarter cities and better infrastructure. Founded in 2005, FLASHNET is a leader in intelligent utility management systems, with worldwide operations. Since 2018, FLASHNET is part of ENGIE (www.flashnet.ro)
inteliLIGHT® is a smart street lighting control solution that offers detailed lamp-level management capabilities (ON/OFF, dimming, real-time reporting) over multiple IoT communication technologies. In-depth grid awareness is obtained through accurate utility-grade readings of any changes occurring along the grid, reducing energy loss and offering advanced maintenance optimization tools. Furthermore, inteliLIGHT® is integrated with Smart City management platforms and offers support for further Smart City development. (www.inteliLIGHT.eu)