Nine municipalities in one "Smart Town" project in Vicentino, based on inteliLIGHT® LoRaWAN™ compatible controllers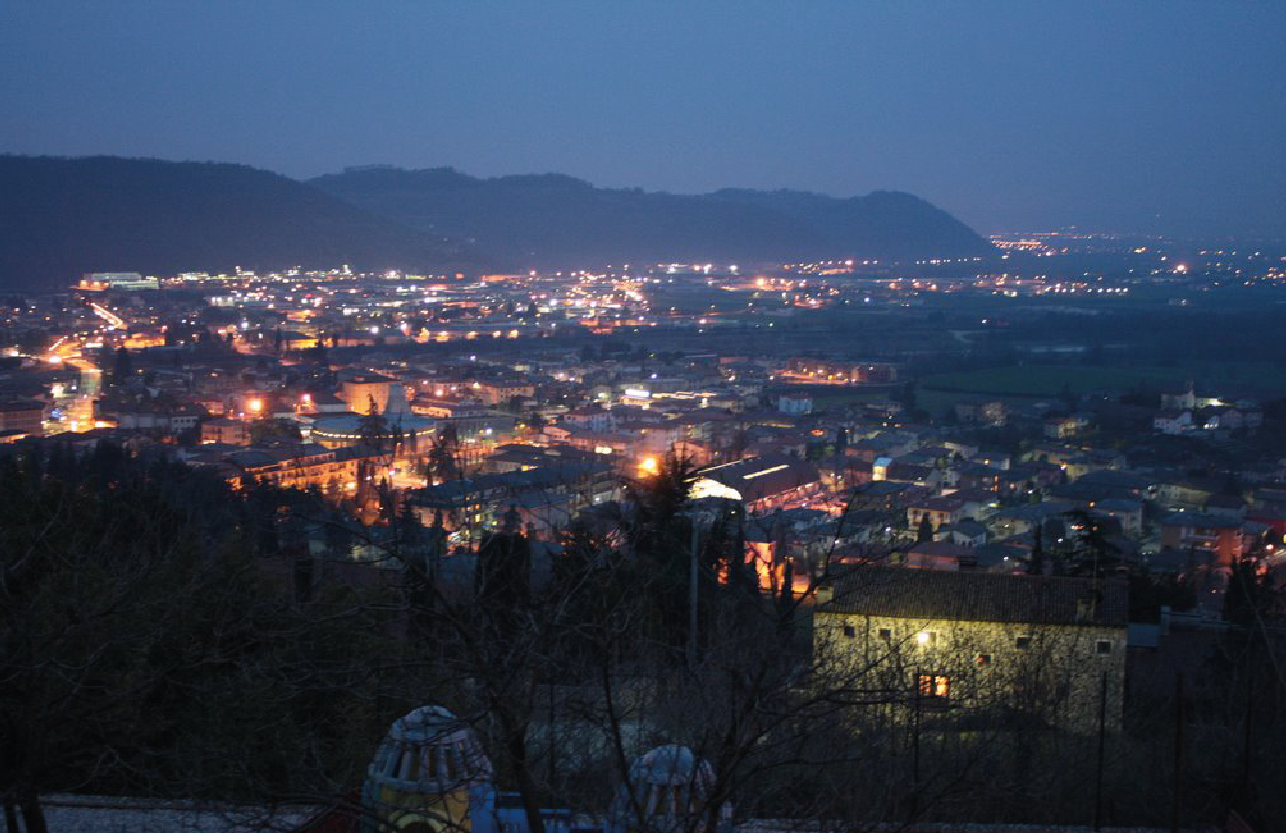 In a single deployment, inteliLIGHT®'s StreetLight Control allows for 9 different municipalities to manage their street lighting together, using advanced user management and the capacity to integrate multiple deployments.
In a world where large and small cities alike are trying to manage their resources more carefully, looking for more efficiency and sustainability, the joint municipalities of the Vicentino area launched a comprehensive "SMART TOWN" project. Vicentino is an extended urban area consisting of several towns in the province of Vicenza, region of Veneto – in northern Italy, where rich history and flourishing culture blend together into a highly industrialized and developed economic environment.
Internet of Things technologies were to be used to improve administrative activities and increase community comfort and prosperity in nine towns of the area: Crespadoro, Gambugliano, San Pietro Mussolino, Trissino, Altissimo, Brogliano, Castelgomberto, Chiampo and Cornedo. The project included intelligent street lighting, traffic monitoring, wireless metropolitan Internet access, tourist information points and a smart bicycle rental system and was assigned, after an auction with more than 10 participants, to GBC Technology Service.
The smart city concept is different for each city, influenced by local particularities and priorities. It requires a customized approach and relies on different systems that need to adapt to local conditions, but also integrate seamlessly with each other.
Vicentino did not only look for sustainability and cost optimization, but needed to improve the infrastructure control and service quality. There are nine different towns that needed to have individual control over their systems, but all these segments had to also  be available at a central level, for optimization and overview.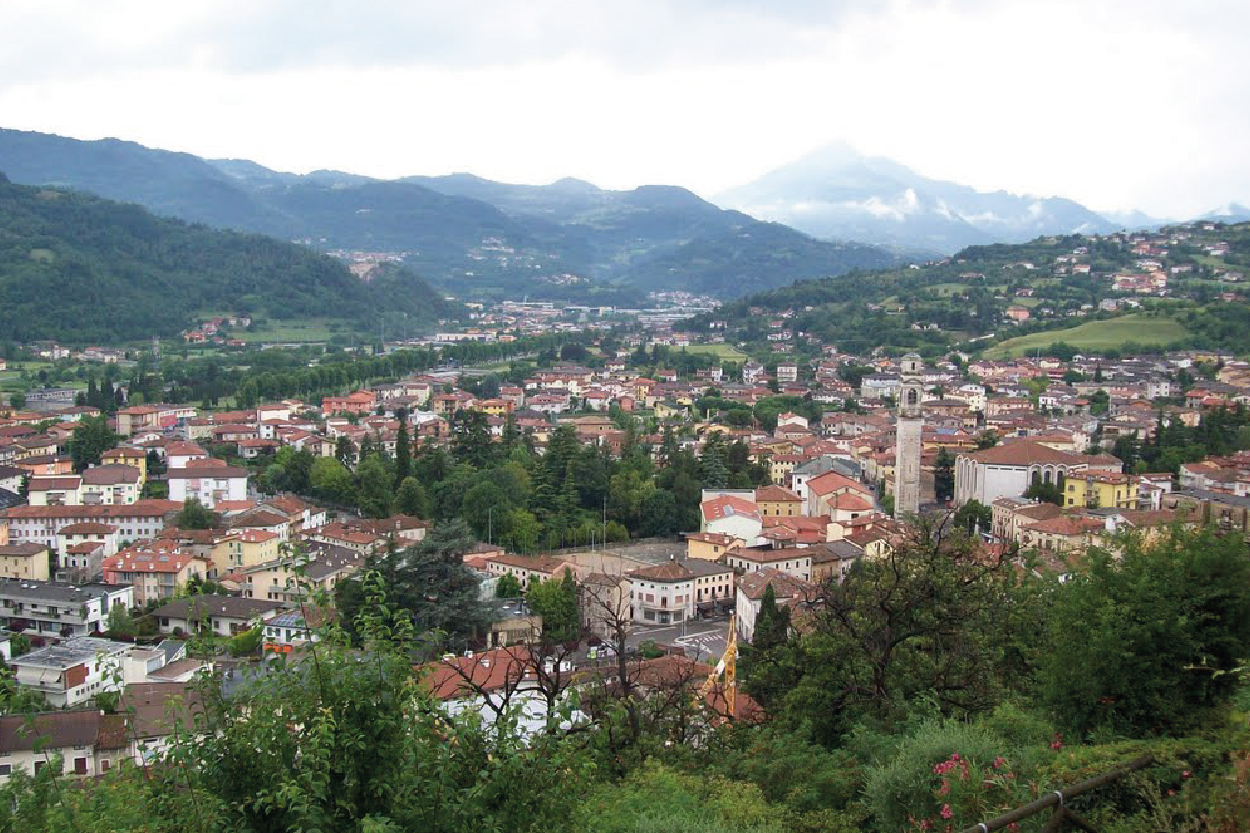 The LoRaWAN™ compatible IoT communication infrastructure was chosen due to its capability to reliably connect sensors and actuators over long distances, using low-bitrate public radio frequencies. With its unique penetration capability, a LoRaWAN™ gateway deployed on a building or tower can connect thousands of devices over distances up to 15 kilometers. The technology also offers unique benefits in terms of bi-directionality, security, mobility and accurate localization. The very fast deployment, the possibility to choose between a private or public network architecture and the low operation costs encouraged the adoption of this solution.
inteliLIGHT® is a proven streetlight control solution, with hundreds of projects worldwide. The system can use one or more IoT communication technologies into the same implementation, with extended flexibility features in terms of geographic deployment and third-party integrations. Due to its lamp-level control, inteliLIGHT® also acts as a smart-city facilitator, keeping the lighting grid powered up even during the day, offering continuous supply for other sensors and applications.
Also, the inteliLIGHT® Streetlight Control software comes with native southbound and northbound API connectivity and proved integration experience with smart city management software suites like CISCO Kinetic and Actility ThingPark.
inteliLIGHT® LoRaWAN™ compatible street lighting management.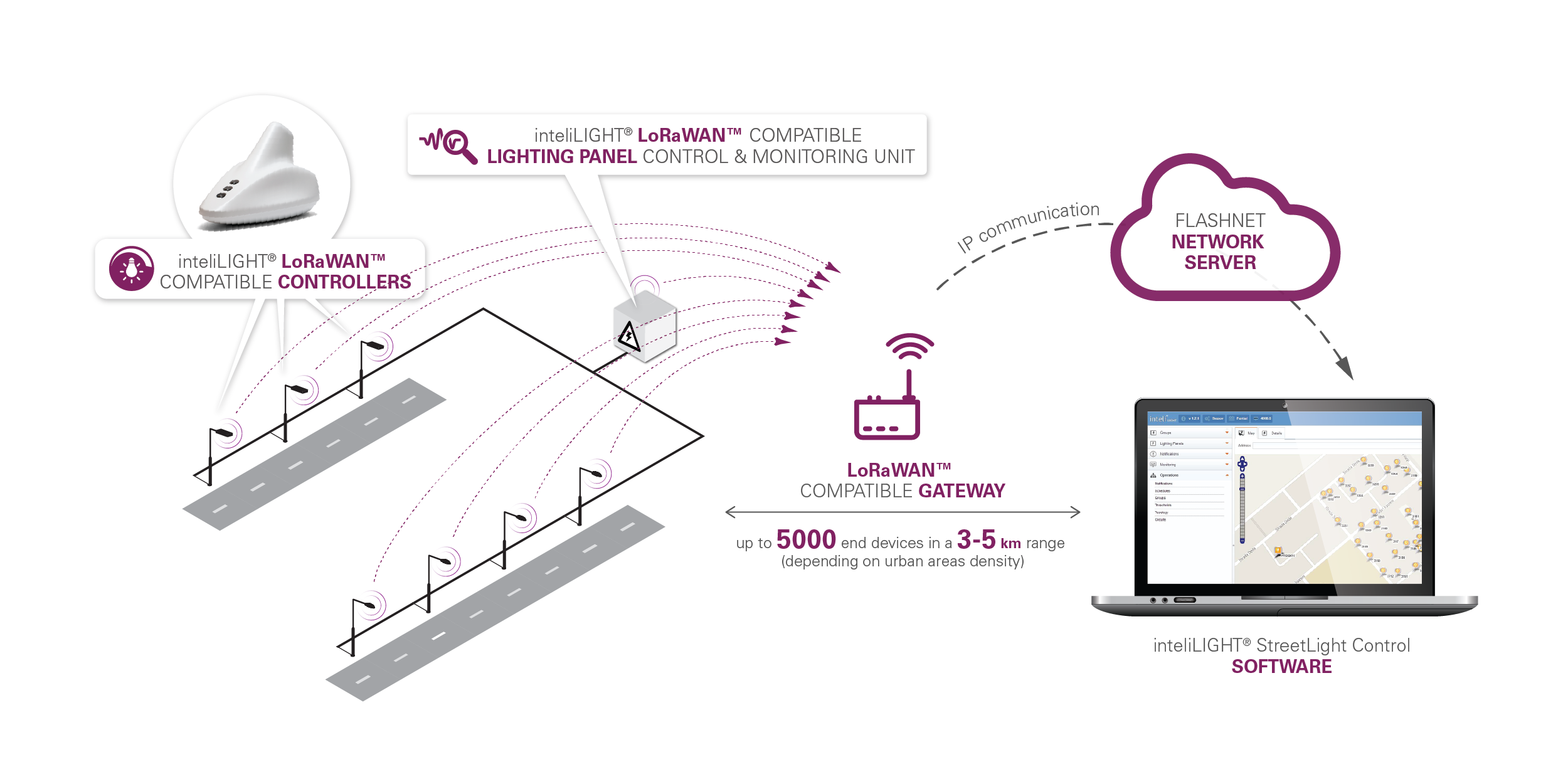 Qty
Product Image
Product Descriprion
800
inteliLIGHT® FRE-220 LoRaWAN™ compatible luminaire controller for retrofitting existing street lamps (autonomous operation on astronomical calendar, ON/OFF and dimming control, real-time malfunction alerts, full electrical parameter reading)
294
inteliLIGHT® FRE-220-M-L LoRaWAN™ compatible luminaire controller, embedded in brand new luminaires directly from the manufacturing line by SPI TECNO (autonomous operation on astronomical calendar, ON/OFF and dimming control, real-time malfunction alerts, full electrical parameter reading)
9
Lorix ONE LoRaWAN™ base stations deployed by GBC Technology Service, one in every town
FLASHNET network server: a private LoRaWAN™ network, capable of managing the street lights and other smart city applications.
Cloud-based inteliLIGHT® Streetlight Control Software, allowing street lighting control, monitoring and maintenance, 24/7 grid monitoring and integration with external applications.
Implementation of the project unfolded smoothly, conducted mainly by GBC Technology Service's specialists during September and October 2017, with FLASHNET remote support available during the implementation.
The LoRaWAN™ base stations were deployed in each town, covering the whole area and commissioning the luminaire controllers as they were installed.
The existing streetlights were retrofitted. For the new luminaires, the embedded controllers were sent to the manufacturer, to deliver LoRaWAN-ready lighting fixtures directly on the production line.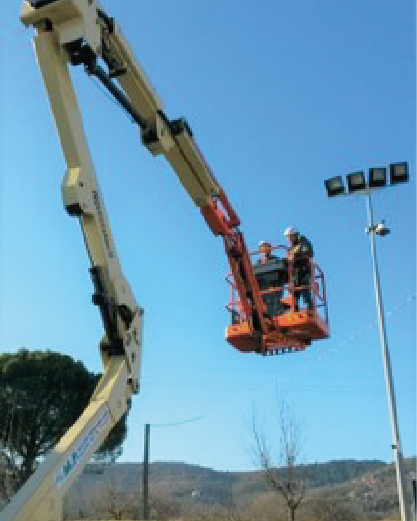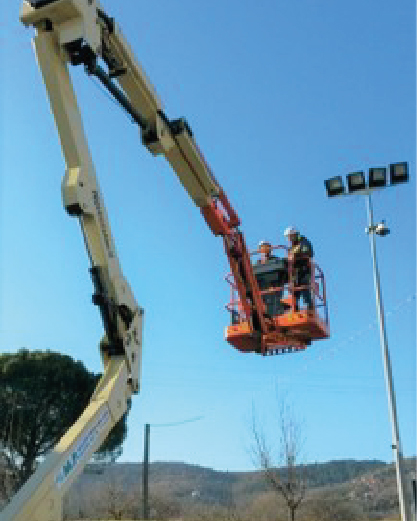 The project, which is the largest LoRaWAN™ streetlight control implementation in the region, involved an outstanding and professional performance from GBC Technology Service's engineers and left the Vincentino officials pleasantly surprised with how fast and efficiently it was carried out. In a single deployment, inteliLIGHT®'s StreetLight Control software's user management capabilities allow each from the 9 different municipalities to remotely manage their street lighting, without interfering with one another. Each municipality can adapt the street lighting management to the local community's needs, improving the service quality and community safety, while saving energy and reducing the street lighting operational costs.
The street lighting grid, omnipresent throughout the urban area, is now powered 24/7. Together with the LoRaWAN™ coverage. This encourages further integration of smart city applications, opening the door to further develop the entire community around the 'smart town' concept.
About GBC Technology Service
GBC Technology Service is an Italian company specialized in system integration of innovative technologies, both at hardware and software level, in areas like Energy efficiency, ICT Solutions, Smart Cities or Integrated Logistics. GBC Technology Service helps businesses to identify the best suited technologies for their purposes and to deploy them on the field. (http://www.gbctech.it)
FLASHNET is a fast-paced tech company that integrates the latest IT, energy and telecommunications technologies into hardware and software solutions, creating and implementing intelligent systems for smarter cities and better infrastructure. Founded in 2005, FLASHNET is a leader in intelligent utility management systems, with worldwide operations. (www.flashnet.ro)
inteliLIGHT® is a smart street lighting control solution that offers detailed lamp-level management capabilities (ON/OFF, dimming, real-time reporting) over multiple IoT communication technologies. In-depth grid awareness is obtained through accurate utility-grade readings of any changes occurring along the grid, reducing energy loss and offering advanced maintenance optimization tools. Furthermore, inteliLIGHT® is integrated with Smart City management platforms and offers support for further Smart City development. (www.inteliLIGHT.eu)