intelligent street lighting control
Future proof smart street lighting control solution that provides interoperability with different communication technologies and IoT platforms, while ensuring compatibility with different lamp manufacturers and smart city devices.
inteliLIGHT® street lighting
management

system capabilities
inteliLIGHT® is a smart street lighting remote management solution that ensures that the right amount of light is provided where and when needed. In-depth grid management gives an accurate real-time feedback of any change occurring along the grid, reduces energy loss and offers advanced maintenance optimization tools. Using the existing infrastructure, you save money and transform the existing distribution level network into an intelligent infrastructure of the future.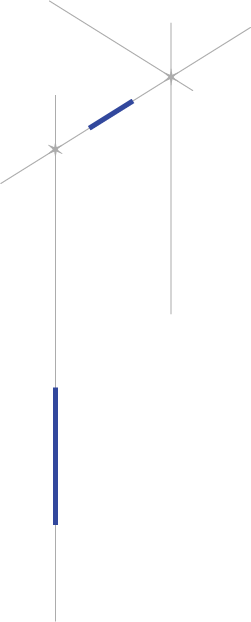 communication technologies
LoRaWAN™ is a Low Power Wide Area Network (LPWAN) specification that targets key requirements of Internet of Things, such as secure bi-directional communication, achieving seamless interoperability among smart things without the need of complex local installation. It aims to give back the freedom to the user, developer and businesses, enabling the rollout of Internet of Things. The network coverage is expanding rapidly and, for controlling connected street lighting installations, we are integrated with most public LoRaWAN™ network operators or can deploy private LoRaWAN™ compatible networks. Find out more…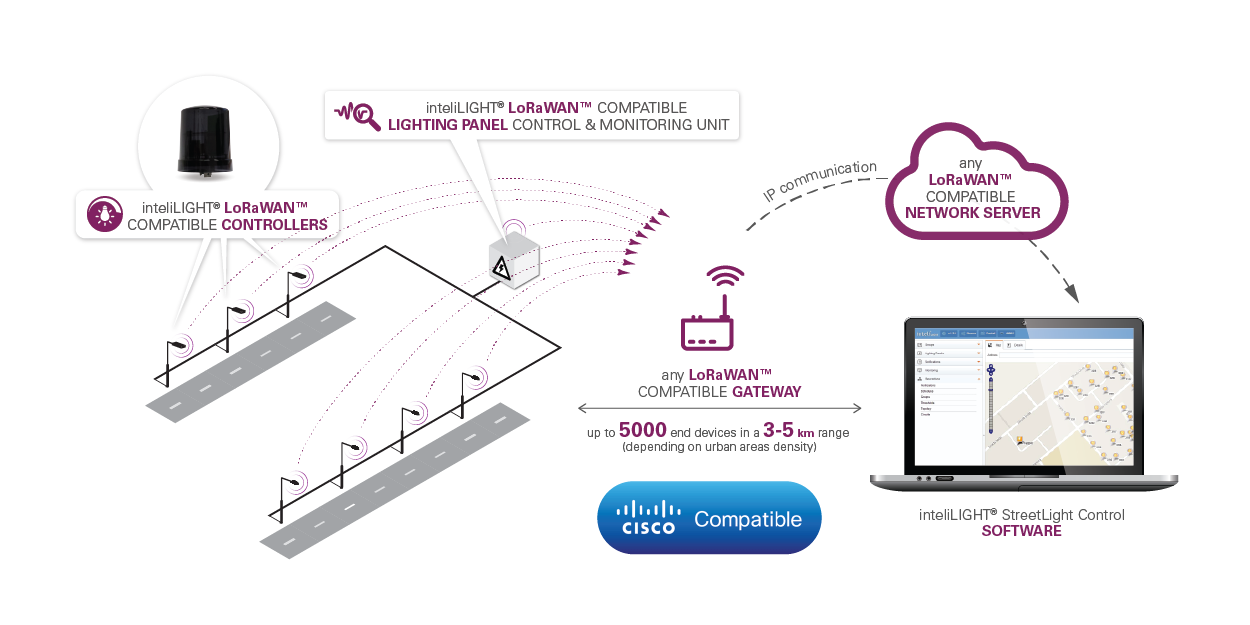 The LonWorks® (by Echelon) is a powerful power-line communication technology for advanced street light systems. Power Line Communication (PLC) is a technology that enables sending data over existing power cables. This means that, with just power cables running to an electronic device (for example) one can both power it up and at the same time control/retrieve data from it in a half-duplex manner. It features permanent communication, real-time lighting commands and it has been tested in tens of large-scale implementations all over the world. Find out more…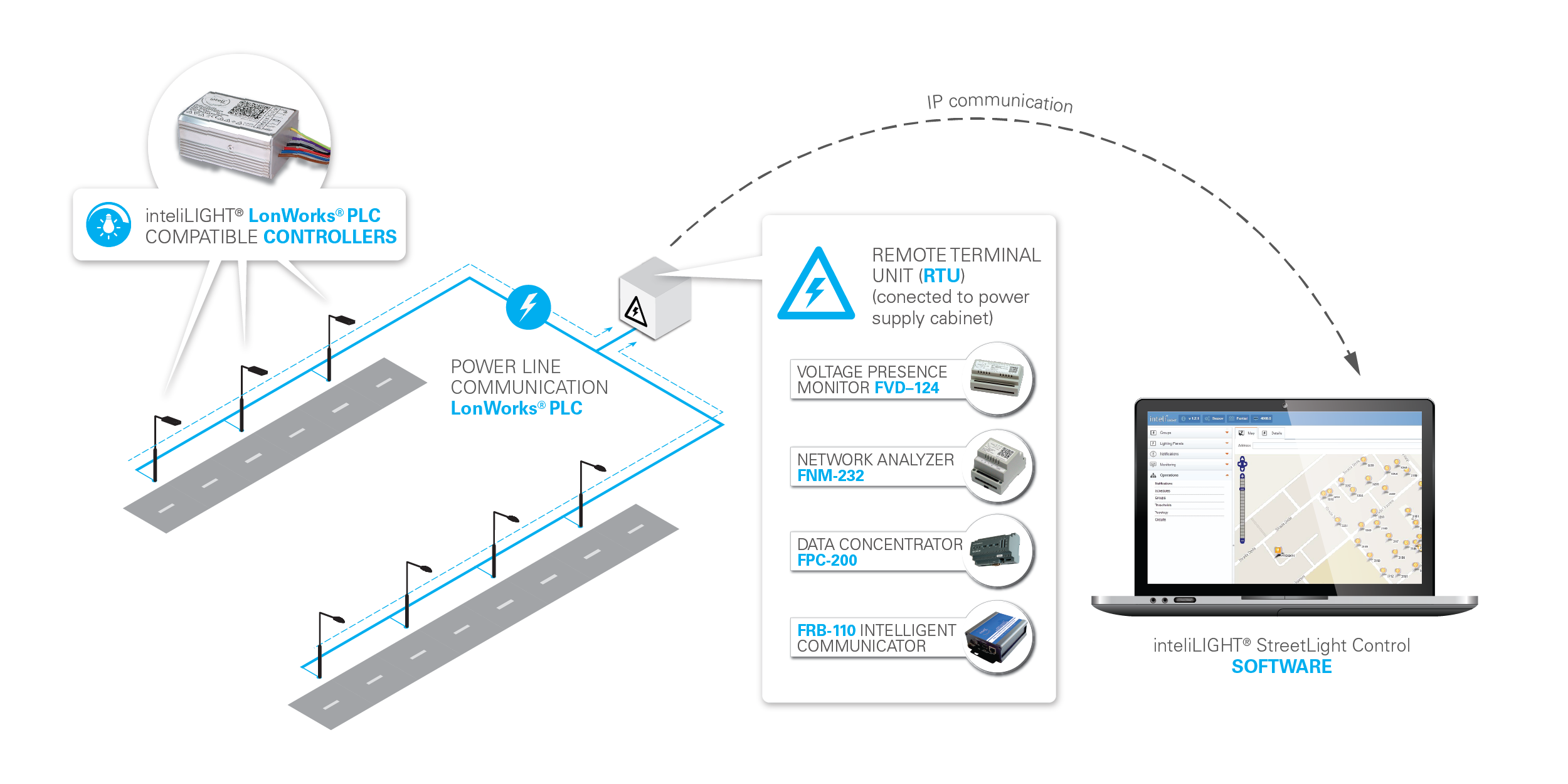 Narrow-Band IoT (NB-IoT) is a carrier-grade RF, narrowband street lighting communication technology, specially designed for the Internet of Things (IoT). It connects devices more simply and effciently on already established mobile networks, and handles small amounts of infrequent 2-way data, securely and reliably. The special focus of this standard is on very low power consumption, excellent penetration coverage and lower component costs, deployed in GSM and LTE regulated frequencies. Find out more…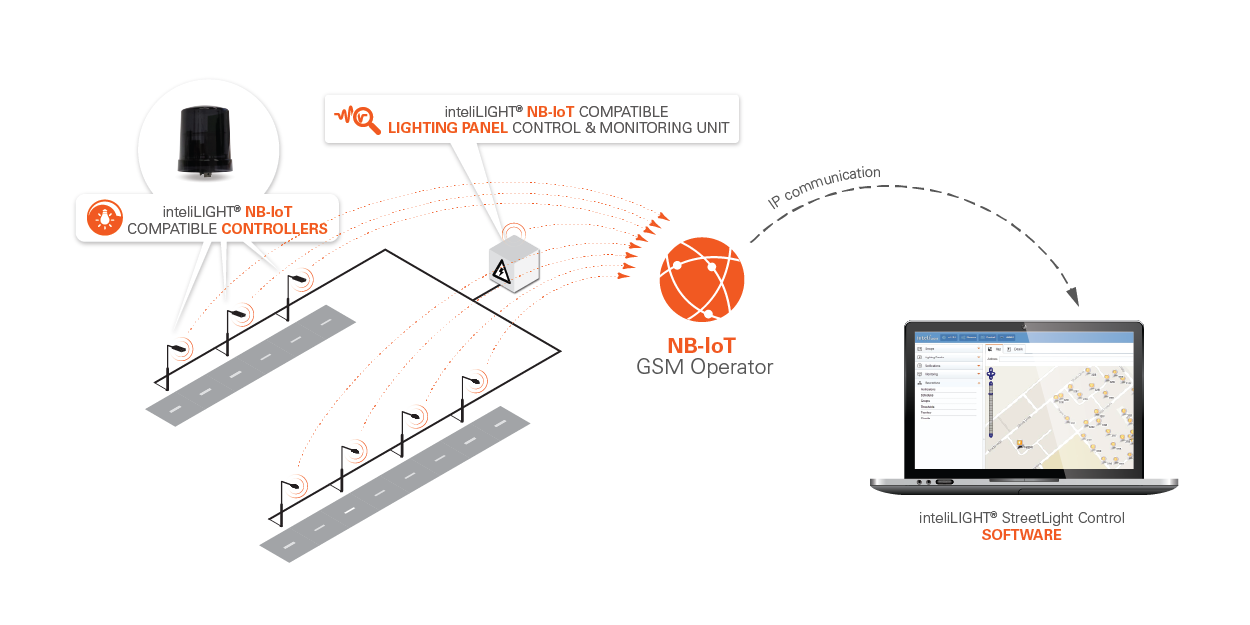 Sigfox is a cellular style communication technology that provides low power, low data rate and low communication costs for Internet of Things and M2M applications. Sigfox employs Ultra-Narrow Band (UNB) technology, which enables very low transmitter power levels to be used while still being able to maintain a robust data connection, using unlicensed ISM radio bands. The simple and easy to rollout star-based cell infrastructure has encouraged its current extended worldwide availability. Find out more…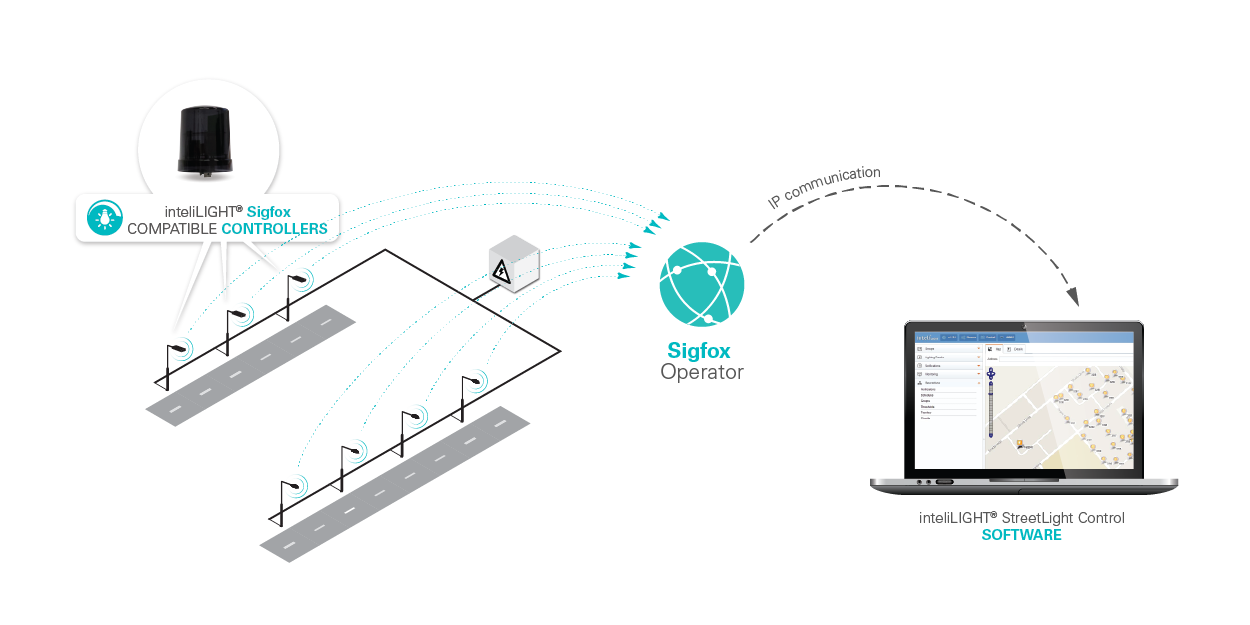 LTE-M is a low power wide area (LPWA) technology standard published by 3GPP. It supports IoT through lower device complexity and extended coverage, while allowing the reuse of the LTE installed base. Supported by all major mobile equipment, chipset and module manufacturers, LTE-M networks will co-exist with 2G, 3G, and 4G mobile networks and benefit from all the security and privacy features of carrier-grade networks. 
Find out more…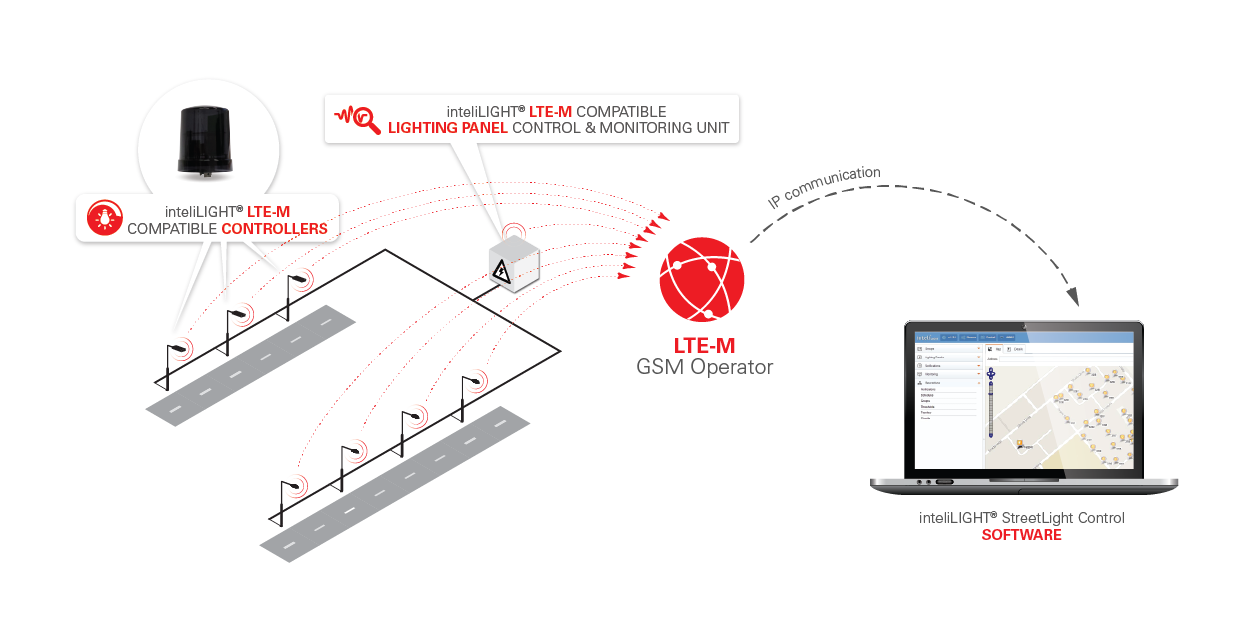 Wi-SUN
(IEEE 802.15.4g RF MESH) is a RF
mesh street lighting
communication technology proven for years in a range of harsh and remote environments across the globe. Supports the latest IP-based security technologies for device authentication and encrypted communications.
Find out more…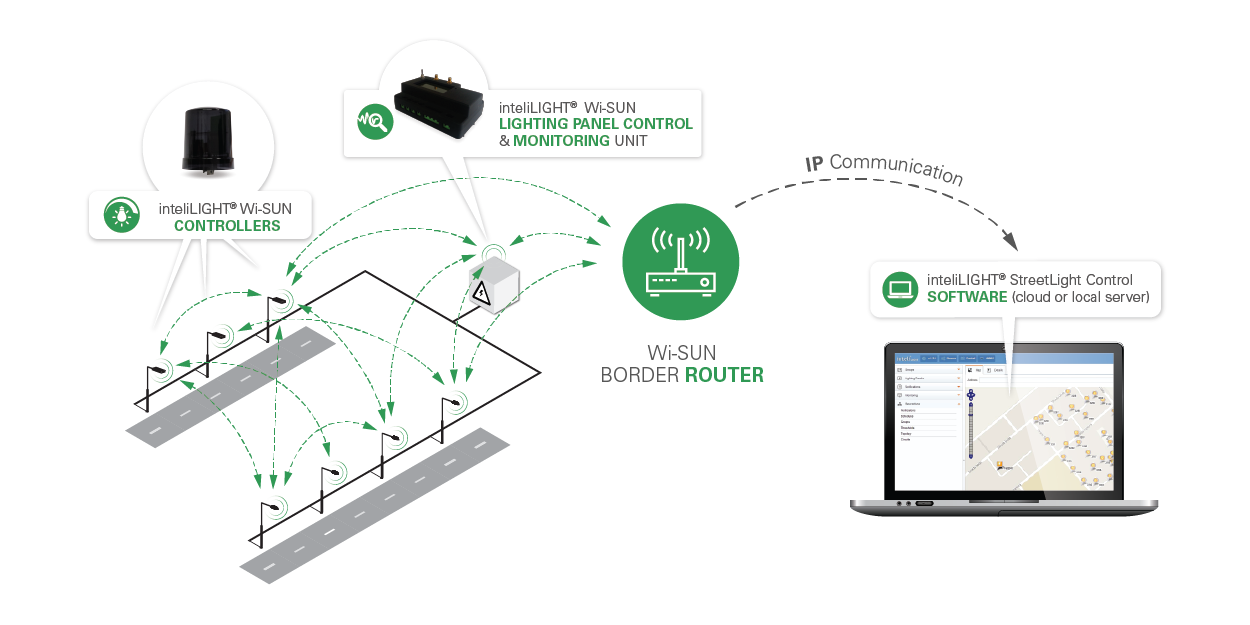 We invite you to Light + Building Autumn Edition 2022 to get acquainted with our latest hardware developments, experience the new #inteliLIGHT CMS v3 software and to learn about our most recent projects all over the world.
The smart city transformation of Washington, D.C. will be powered by 75,000 inteliLIGHT® streetlight controllers. The $309 million project will reduce energy use by more than 50%, improve equity of service, and extend Wi-Fi coverage in underserved neighborhoods.
Lucy Group Ltd is pleased to announce the acquisition, on 10th June 2022, of an 80% majority shareholding in Flashnet S.A., a specialist in the design, development and manufacture of smart lighting and smart city control systems.
Springwise, a global source for innovation intelligence, noticed smart street lighting capabilities for sustainable development.
Although Mobile IoT technologies are still relatively new, the start-ups participating in the GSMA Mobile IoT Innovators Showcase are close to commercialising their solutions. Together with Deutsche Telekom, Flashnet has deployed its street lighting solution and some other NB-IoT-based applications in Patras in Greece, and for a pilot in Bonn, Germany. "For now we see the most interest in NB-IoT to come from Europe, and most probably the European NB-IoT based projects will be pioneers around the world, but we expect that with time interest will grow in the Middle East and in Asia as well," says Orsolya Szallos-Kis, Sales Engineer at Flashnet.
"The Internet of Things (IoT) is changing our world. Companies and cities all over the world are equipping physical objects with software, sensors and connectivity to merge them into a global network, the IoT. As things are becoming able to collect and exchange data, they emerge into new ecosystems across processes, industries and countries, enabling new services or whole new business models. Well-known IoT use cases include smart metering, goods tracking and equipment monitoring."