inteliLIGHT® FRCM-L LoRaWAN™ lighting panel control & monitoring unit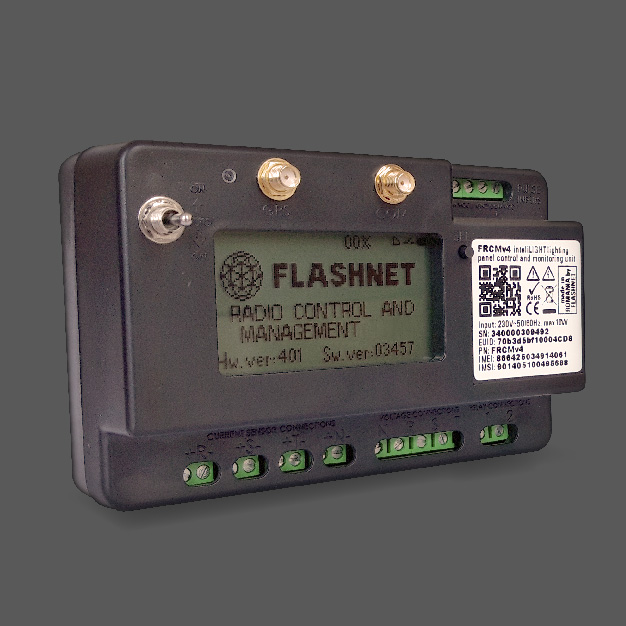 Installed inside the feeder pillar, it is designed to provide autonomous operation for street lighting installations and carries out three phase measurements and analysis of electrical parameters in street lighting grids.
Specially designed and optimized for LoRaWAN™ (long range RF wide area networks).
VPN security with AES128/256-bit encryption and key rotation.
Bandwidth efficient with minimal communication requirements.
Autonomous operation based on prede­fined astronomic calendar and/or external light level sensor (digital INPUT).
Remote real-time ON/OFF control.
Remote monitoring of grid parameters in street lighting grids: per phase voltage, current, frequency, power factor, active/ reactive/ apparent power, daily active/ reactive energy consumption.
Configuration options for: current transformer ratio, voltage/power thresholds and daytime/nighttime consumption thresholds.
LCD for displaying electrical parameters and device status.

GPS

for exact location and time.
Maintenance switch for local manual override (AUTO/ON/OFF).
Inputs: 2 x Digital INPUT.
Output: 1 x Dry contact relay output (230V, max 3A).
Designed lifetime: 10+ years.
| | |
| --- | --- |
| Power supply | 85 – 260VAC / 50-60 Hz |
| Local interface | USB |
| Network interface | LoRaWAN (Class C or Class A) |
| RF spectrum | 868MHz  / 915MHz / 923MHz |
| Display | LCD |
| Firmware update | OTA (over the air) |
| GNSS | Geolocation and precision time (GPS, GLONASS, BeiDou, Galileo and QZSS) |
| Security | AES128-bit encryption and key rotation per session (AES256-bit optional) |
| Surge protection | max 6kA (IEC 61000-4-5) |
| Internal scheduling memory | 16 events (daily / weekdays / weekends / fixed date / exceptions) |
| Measurement accuracy | MID grade (±1%) |
| Power consumption | Max. 10 W |
| Precision Real Time Clock (RTC) | Yes, battery operated |
| Battery operation time | up to 5 hours |
| Input | • R, S, T voltage inputs • R, S, T, N current inputs • 2 x Digital input |
| Power network type | Three phase electric network and Neutral |
| Current transformers | Standard X:5, where X is user definable |
| Digital input | 2x Dry contact relays or active inputs 5-12V (any combination) |
| Output | 1 x Dry contact relay (230V, 2-16A depending on load type) |
| Light sensor | Optional – externally connected |
| Connectors | • Voltage (R,S,T,N) • Current (R,S,T,N) • RF / GPS / USB |
| Grid connectors | 2.5 mm²  terminals |
| Antennas | 2 x SMA |
| Ingress protection | IP20 (IEC 60529) (optional IP67 external housing) |
| Operating temperature | -25°C to + 70°C |
| Operating humidity | 95% non-condensing |
| Weight | 320 ± 5 g |
| Dimensions (L x W x H) | 138 x 90 x 47 mm |
| Mounting | DIN RAIL |
| Compliant standards | • RED Directive:  LVD Directive & protection of health (EN IEC 62368-1, EN IEC 62479), EMC Directive (ETSI EN 301 489-1, ETSI EN 301 489-3), Efficient use of radio spectrum (ETSI EN 300 220-1, ETSI EN 300 220-2, ETSI EN 303 413) • RoHS Directive • Environmental Testing: EN 60068-2-1, EN 60068-2-2 |
| Certifications | CE |
voltage
current
active power
reactive power
apparent power
active energy
reactive energy
power factor
frequency
current transformer ratio
voltage/power / current thresholds
daytime/ nighttime consumption threshold
over/ under voltage detection
over/ under power detection
over/ under current detection
unusual daytime/nighttime consumption
phase failure