LoRaWAN and GSM communications, combined in a
smart

street lighting implementation in the Italian city of Grottaglie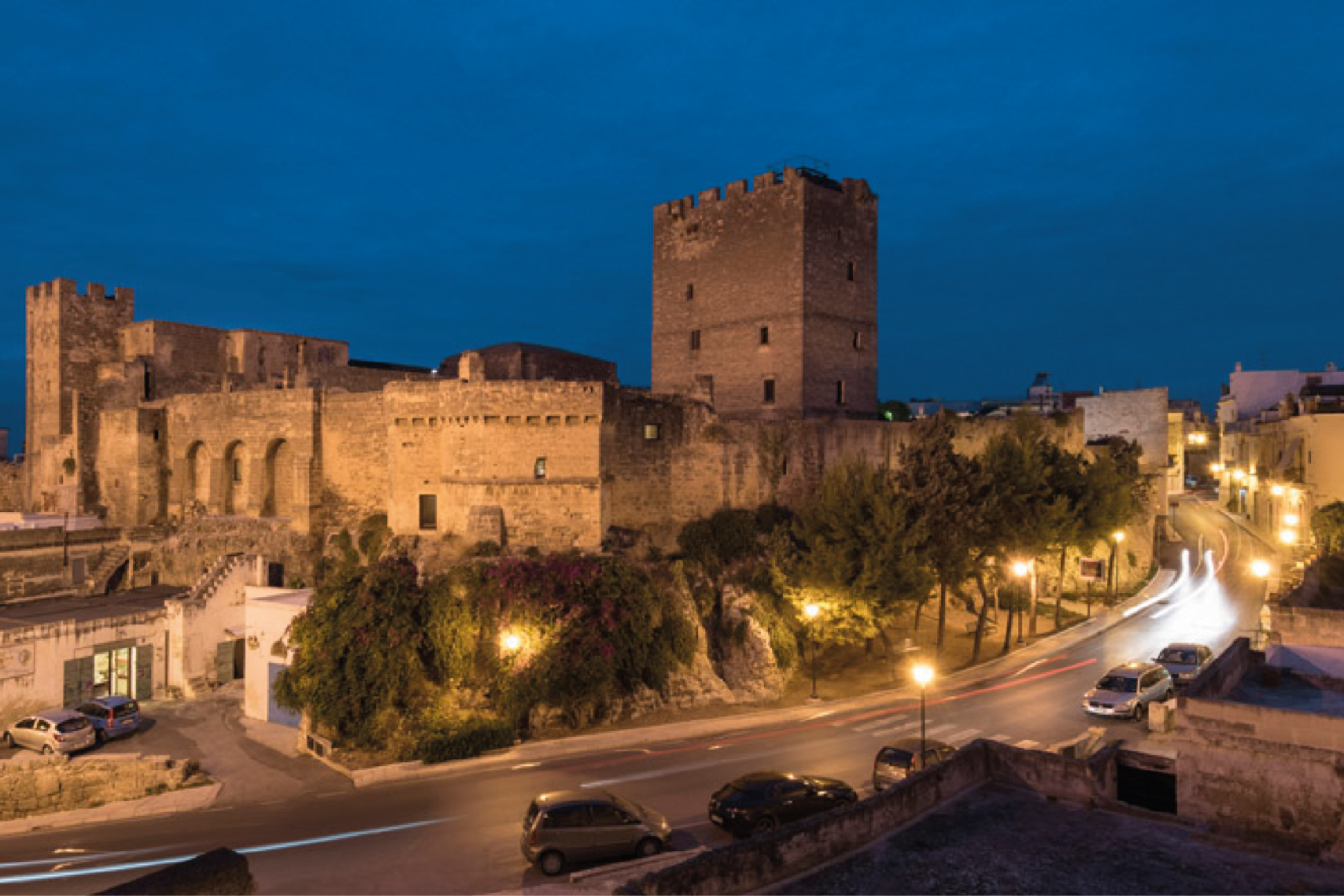 Intelligent street lighting provided by inteliLIGHT and installed by ENGIE, combines LoRaWAN and GSM communications for a custom street lighting solution to Italian city of Grottaglie.
Located on the slope of the Murge plateau, Grottaglie is marked by the presence of ravines and caves, with a historical center dug directly into the tufo (the rock made of volcanic ash). The city has around 33.000 inhabitants, covering 102 square km. With a history rooted in the Paleolithic, you can still see in Grottaglie buildings dating back to the 13-th century and narrow streets, olive trees and Mediterranean vegetation are characteristics of this small city in the Salento peninsula.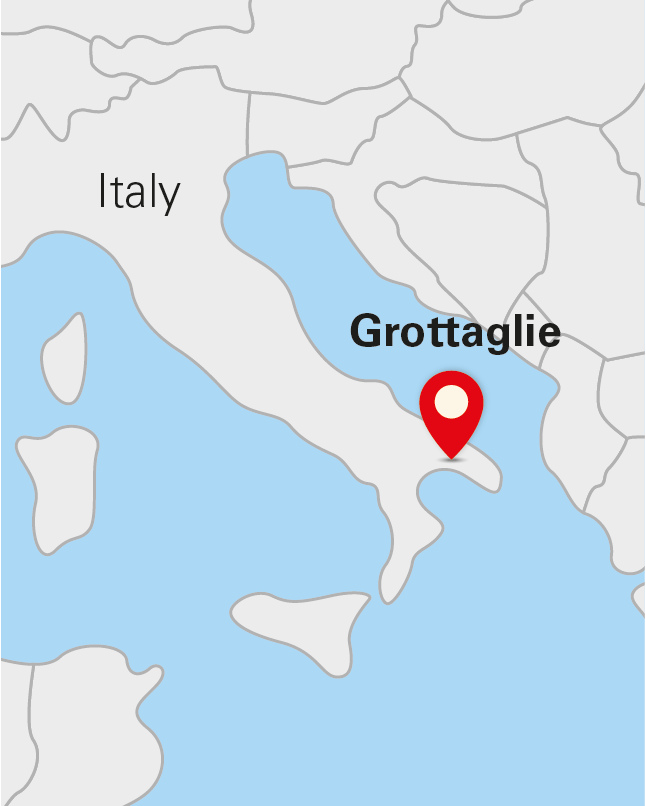 Considering the local situation, Flashnet's engineers proposed a mix of LoRaWAN™ / GSM implementation, using 1NCE connectivity. 1NCE enables IoT applications and services to access GSM connectivity for ten years on a buy-once flat fee.
The inteliLIGHT LoRaWAN™ compatible IoT communication infrastructure was chosen due to its capability to reliably connect sensors and actuators over long distances, using low-bitrate public radio frequencies. With its unique penetration capability, a LoRaWAN™ gateway deployed on a building or tower can connect thousands of devices over distances up to 15 kilometers. The technology also offers unique benefits in terms of bi-directionality, security, mobility and accurate localization. The very fast deployment, the possibility to choose between a private or public network architecture and the low operation costs encouraged the adoption of this solution.
Due to the chosen solution, the implementation was simple and fast, with only few elements installed: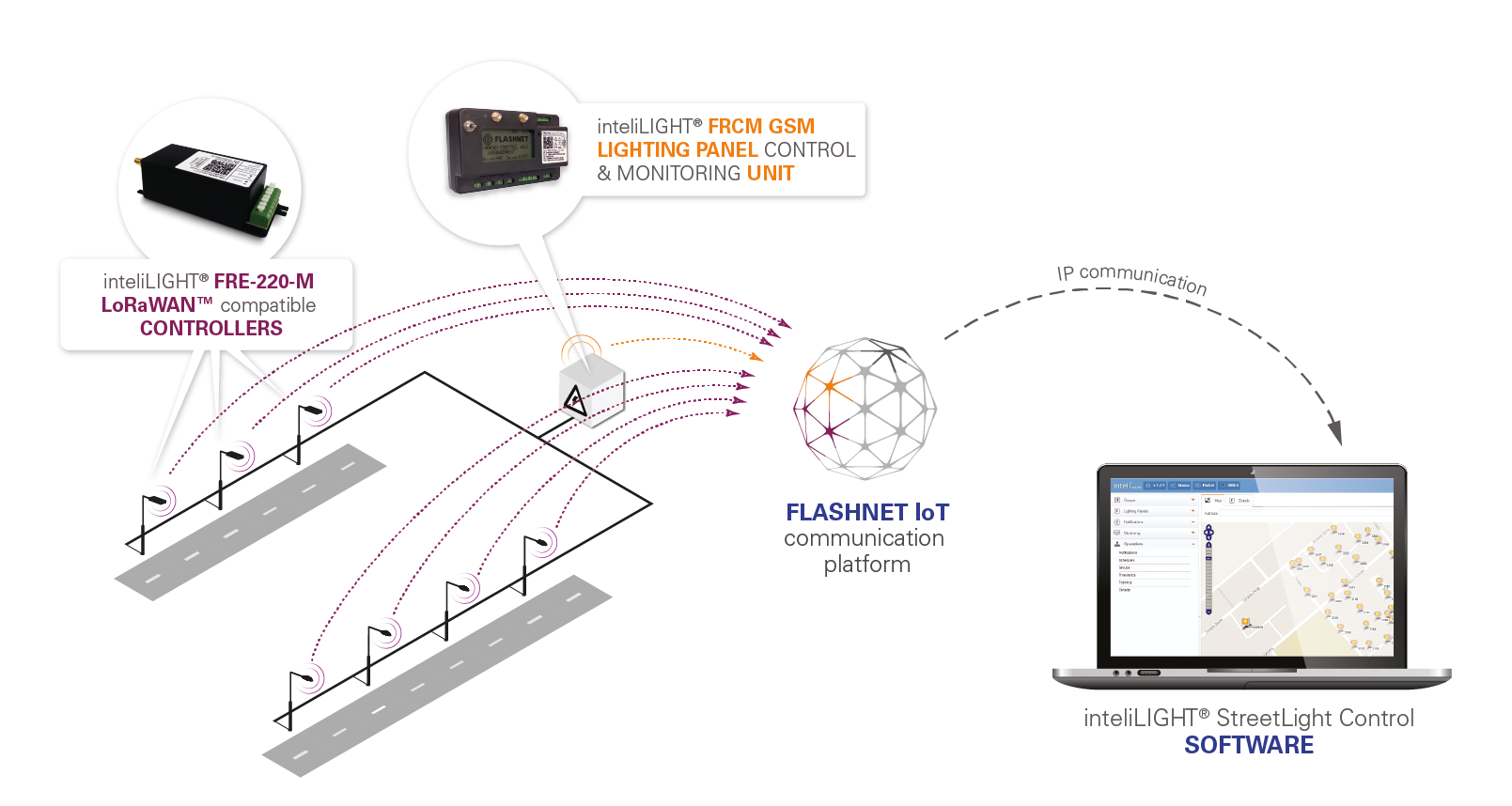 | Product Image | Product Description |
| --- | --- |
| | inteliLIGHT® FRE-220-M-L LoRaWAN™ LoRaWAN™ compatible luminaire controller (autonomous operation on astronomical calendar, ON/OFF and dimming control, real-time malfunction alerts, full electrical parameter reading) embedded in brand new luminaries; |
| | inteliLIGHT® FRCM with 10 years GSM communications included. The lighting panel control and monitoring unit provides remote ON/OFF lighting panel operation and carries out measurements and analysis of different parameters in street lighting grids. Under/ overpower monitoring, voltage monitoring, phase failure and daytime/nighttime consumption mismatches are reported in real-time to the central server. |
| | Cloud-based inteliLIGHT® Streetlight Control Software, allowing street lighting control, monitoring and maintenance, 24/7 grid monitoring and integration with external applications. |
Easy set up and implementation went smoothly, being conducted mainly by ENGIE engineers with remote technical support from the FLASHNET team. Using the existing infrastructure, the implementation effort was low, and the civil works were reduced to minimum, offering instant grid awareness and real-time malfunction alert.
inteliLIGHT®'s street lighting management system functionality was immediately available to municipality's maintenance staff that now have detailed information on the street lighting grid and can offer improved services while optimizing energy and maintenance costs.
A global energy and services group, focused on three core activities: low-carbon power generation, mainly based on natural gas and renewable energy, global networks and customer solutions. In 2018, ENGIE announced the acquisition of 60% of Flashnet, a Romanian Internet of Things (IoT) company. Thanks to its solutions, many cities, both large and small, already enjoy all the benefits of smart public lighting networks. Learn more on www.engie.com
FLASHNET is a fast-paced tech company that integrates the latest IT, energy and telecommunications technologies into hardware and software solutions, creating and implementing intelligent systems for smarter cities and better infrastructure. Founded in 2005, FLASHNET is a leader in intelligent utility management systems, with worldwide operations. Since 2018, FLASHNET is part of ENGIE (www.flashnet.ro)
inteliLIGHT® is a smart street lighting control solution that offers detailed lamp-level management capabilities (ON/OFF, dimming, real-time reporting) over multiple IoT communication technologies. In-depth grid awareness is obtained through accurate utility-grade readings of any changes occurring along the grid, reducing energy loss and offering advanced maintenance optimization tools. Furthermore, inteliLIGHT® is integrated with Smart City management platforms and offers support for further Smart City development. (www.inteliLIGHT.eu)