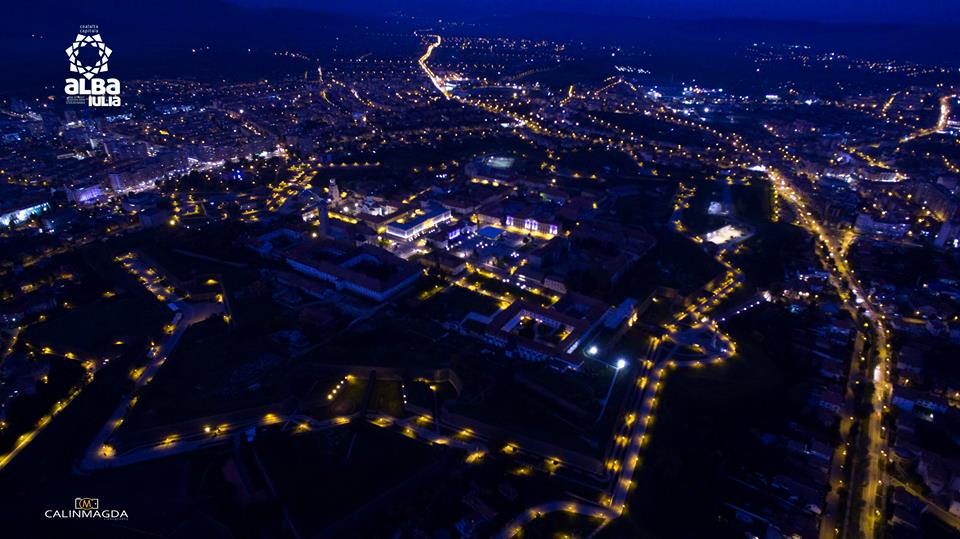 inteliLIGHT® StreetLight Control Software and LoRaWAN™ compatible controllers are going to provide street lighting management, power supply grid awareness and maintenance optimization for the largest smart city project in Romania.
Brasov, ROMANIA – The Romanian Ministry of Communications and the city of Alba Iulia have appointed Orange Romania to implement the most complex Smart City in Romania, defining new standards for this still developing concept. Smart cities in general target improved efficiency and reduced carbon footprint for the entire city, but also lifestyle improvements and daily synergies for individuals.
Besides 4G and WiFi, LoRaWAN™ will be one of the new communications infrastructures installed in the city, allowing long range low power radio connectivity for any compatible IoT devices. Flashnet® is going to provide LoRaWAN™ connectivity throughout Alba Iulia, as a base for several interconnected sensors and controllers, included the new inteliLIGHT® LoRaWAN compatible controllers.
Streetlight management is an important objective of the smart city project, providing important benefits. Energy costs are immediately reduced by up to 35% through intelligent ON/OFF switching, targeted progressive dimming and efficient management, while overall operational costs come down by up to 42% through detailed maintenance and preventive grid interventions based on system generated reports. inteliLIGHT® will provide both hardware and software (including software integrations) for 100 streetlamps in Alba Iulia, to prove the system reliability and ease of integration with the city management platforms proposed by Orange.
About the city of Alba Iulia:
Alba Iulia is a city located on the Mureş River in Alba County, Transylvania, Central Romania, with a population of 63,536 as of 2011. Since the High Middle Ages, the city has been the seat of Transylvania's Roman Catholic diocese and it is one of the most important Romanian historical sites, hosting a large and very well preserved medieval citadel.
About Orange Romania:
Orange Romania is Romania's largest GSM network operator, fully owned by the France Telecom Group. Since June 2006, France Telecom Group has been extending the Orange brand beyond mobile, fixed line, internet and TV offers. Orange also serves all size businesses and provides total business communications in 220 countries and territories. Orange customers have access to an exciting new generation of services that are designed to make life easier, as well as a cohesive customer experience from a singe, unified operator. Orange Romania's Web address is www.orange.ro.
About LoRaWAN™:
The technology utilized in a LoRaWAN™ network is designed to connect low-cost, battery-operated sensors and actuators over long distances, in conditions that were previously too challenging or cost prohibitive to connect. With its unique penetration capability, a LoRaWAN gateway deployed on a building or tower can connect to sensors more than 10 miles away or to water meters deployed underground or in basements. LoRaWAN™ offers unique benefits in terms of bi-directionality, security, mobility and accurate localization. Furthermore, very fast and low-cost deployment and operation encourage IoT initiatives globally.
About inteliLIGHT®
inteliLIGHT® is a reliable remote street lighting management solution developed by Flashnet. It ensures that the right amount of light is provided where and when needed, encouraging better resources management and sustainability. By upgrading your existing street lighting infrastructure, you not only save money and improve efficiency, but also transform the existing distribution level network into an intelligent infrastructure for the future. (www.https://intelilight.eu)
About Flashnet:
FLASHNET is a fast paced tech company that integrates the latest IT, energy and telecommunications technologies into hardware and software solutions, creating and implementing intelligent systems for smarter cities and better infrastructure. Founded in 2005, FLASHNET is a leader in intelligent utility management systems, with worldwide operations. (www.flashnet.ro)