A Colombian town makes a bold step towards
sustainability

with inteliLIGHT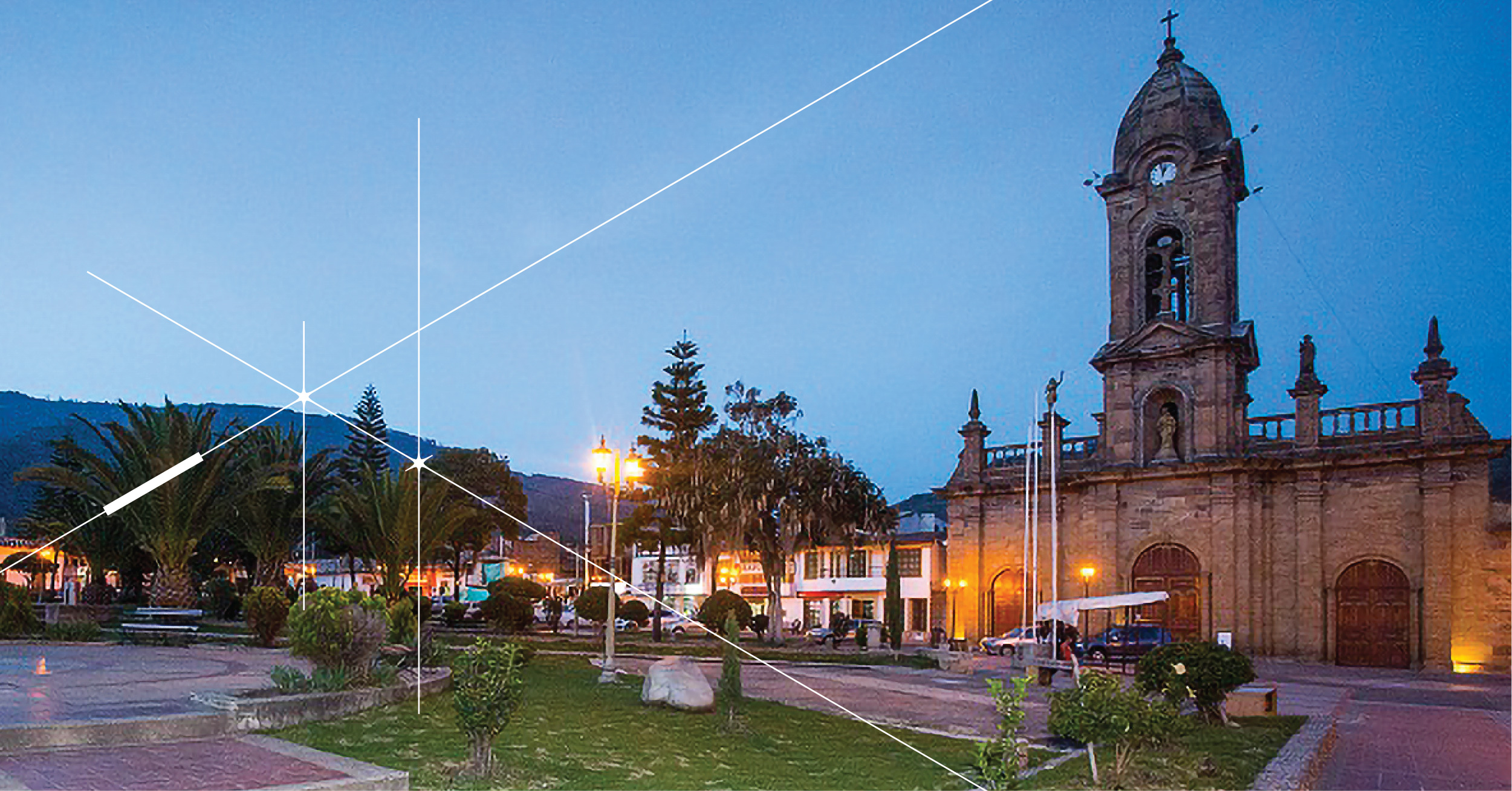 Putting a spotlight on a forward-thinking approach to urban lighting, Nobsa, a vibrant municipality nestled in Colombia's Boyacá region, echoes a global trend of cities transitioning towards more sustainable practices. This pioneering project underscores the growing global reliance on Flashnet's inteliLIGHT smart street lighting technology.
Nobsa is a town and municipality with a population of approximately 16 000 inhabitants, part of Boyacá department, Colombia. Amidst its tranquil beauty, the region is renowned for its thriving artisanal industry and handcrafted woolen goods.
Like many progressive municipalities worldwide, Nobsa has boldly set out to address urban challenges, placing emphasis on enhancing the existing urban and rural public lighting networks, as well as public sports venues. This initiative signifies the town's commitment to improving urban life quality and fostering environmental sustainability.
Partnering with the esteemed integrator EME INGENIERIA S.A. BIC, Nobsa has tapped into the transformative potential of merging its rich cultural heritage with state-of-the-art technology. This harmonious blend sets the stage for the successful implementation of the inteliLIGHT smart street lighting solution.
The project combines the strengths of LoRa (AU915), LoRaWAN, and GSM (4G) technologies, establishing a secure and reliable private network. This network infrastructure capitalizes on superior penetration and seamless communication, irrespective of urban density. The project has utilized 605 units of pole-mounted controllers, integrating seamlessly into the GestionEME (On-Premise platform).
The controllers' compatibility and low visual profile facilitate a streamlined and cost-effective installation process. These attributes, coupled with the GSM communications fallback make inteliLIGHT an appealing choice for municipalities seeking to modernize urban lighting.
With the system's intelligent features, such as autonomous operation based on predefined astronomic calendars, remote ON/OFF and dimming control, Nobsa is poised to reap a plethora of benefits. These include improved lighting awareness, pollution reduction, energy conservation, and heightened street safety.
Moreover, the adaptable lighting system is designed to cater to community events throughout the year, enhancing the town's cultural heritage and contributing to a safer environment in areas previously perceived as unsafe due to poor lighting.
The inteliLIGHT system's integration capabilities extend beyond mere lighting. The readiness of the system to synchronize with other smart solutions opens a realm of future possibilities for the town, such as traffic management or air quality monitoring systems. This smart street lighting project represents not just an upgrade but a transformative step towards a smarter, more sustainable Nobsa.
EME Ingeniería S.A. BIC is recognized as a leading organization in the development of large-scale projects. The company's specialization lies in the design and construction of electrical networks, telecommunication infrastructures, as well as automation, control, and security systems.
With a strong presence in the industry for over 42 years, EME Ingeniería S.A. BIC has successfully established a nationwide reach. The company's  expertise and robust infrastructure enable them to support a wide array of projects across multiple sectors including Renewable Energy, Automation, Control and Security, Electrical Engineering, Home Automation, Telecommunications, Civil Engineering, and Information Systems. www.emeingenieria.com
FLASHNET is a fast-paced tech company that integrates the latest IT, energy and telecommunications technologies into hardware and software solutions, creating and implementing intelligent systems for smarter cities and better infrastructure. Founded in 2005, FLASHNET is a leader in intelligent utility management systems, with worldwide operations. (www.flashnet.ro)
inteliLIGHT® is a smart street lighting control solution that offers detailed lamp-level management capabilities (ON/OFF, dimming, real-time reporting) over multiple IoT communication technologies. In-depth grid awareness is obtained through accurate utility-grade readings of any changes occurring along the grid, reducing energy loss and offering advanced maintenance optimization tools. Furthermore, inteliLIGHT® is integrated with Smart City management platforms and offers support for further Smart City development. (www.inteliLIGHT.eu)