FLASHNET

 and ENGIE encourage worldwide city innovation during Singapore's World City Summit 2018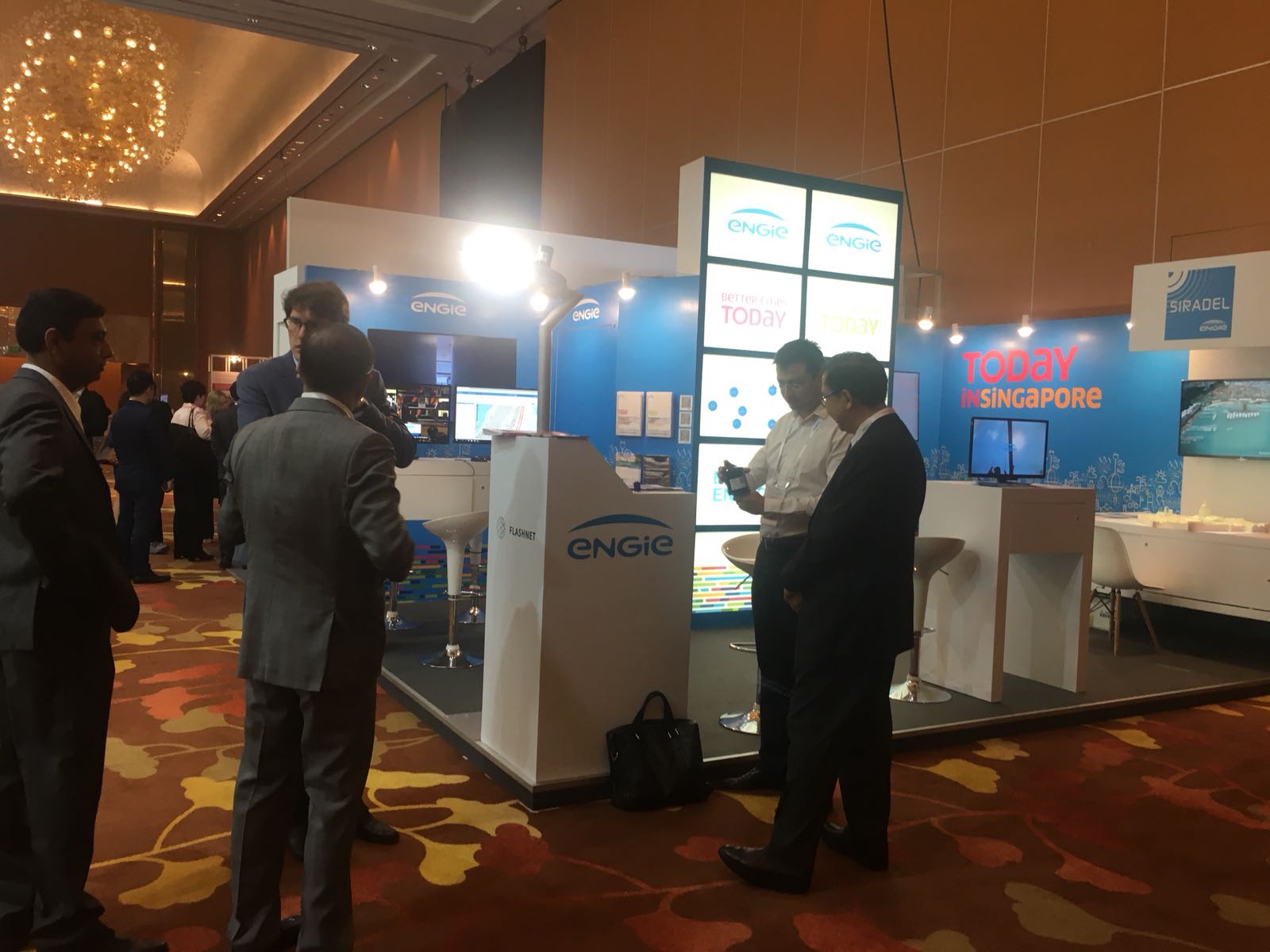 Part of the newly forged partnership between ENGIE Group and Flashnet, inteliLIGHT's street lighting control solution is being showcased in Singapore this week. The biennial World Cities Summit is an exclusive platform for government leaders and industry experts to address liveable and sustainable city challenges, share integrated urban solutions and forge new partnerships.
Brasov, ROMANIA, July 10, 2018
Themed "Liveable & Sustainable Cities: Embracing The Future Through Innovation and Collaboration", the 6th World Cities Summit in 2018 will explore how cities can be more liveable and resilient through better governance and planning, technology and social innovations, as well as collaborations with various stakeholders and with other cities. Through shared vision and active engagement, the public, private and people sectors can co-create innovative and integrated urban solutions for a more sustainable future.
inteliLIGHT presents its city sustainability vision and aim for flexible implementation and synergistic integration with other city systems. Street lighting control solutions have been around for quite some time now, but most companies have focused on closed, proprietary communications and software. Although integrated with different smart city services, sensors and even CCTV cameras, most of them are limited and do not offer much besides lighting control. Smart waste management, smart traffic management, smart parking – are just a few of countless smart services that a city can deploy today, but every one of these is mostly seen as a separate service, with its own communication infrastructure, software application and variables.
inteliLIGHT smart streetlight controllers do not use one, nor two, but six different open communication technologies, PLC and RF, private or public, that can be used individually or combined into the same project. And this is not all, the company's R&D engineers are constantly assessing new IoT technologies that can be used for lighting control, preparing to expand even further the available options. Also, inteliLIGHT® comes with plug and play compatibility with major IoT/Smart City platforms, as companies like Cisco, Ericsson or Nokia are aiming to integrate individual smart services into real Smart Cities. It is no longer enough to control lighting and to gather sensor data. Integrators use big data and machine learning algorithms to make sense of it all, transforming data into actionable information and encouraging synergistic systems interaction.
"This is the first major event after ENGIE became the majority shareholder in Flashnet, earlier this month. It is a privilege to share our open street lighting control and smart city vision with ENGIE and to be able to present it to the world in the incredible city of Singapore. Singapore itself is a benchmark for what modern cities stand for, as we believe inteliLIGHT does for the streetlight control industry." said Mr. George Zaharia, Business Development Manager of inteliLIGHT.
We are a global energy and services group, focused on three core activities: low-carbon power generation, mainly based on natural gas and renewable energy, global networks and customer solutions. Driven by our ambition to contribute to a harmonious progress, we take up major global challenges such as the fight against global warming, access to energy to all, or mobility, and offer our residential customers, businesses and communities energy production solutions and services that reconcile individual and collective interests. Our integrated – low-carbon, high-performing and sustainable – offers are based on digital technologies. Beyond energy, they facilitate the development of new uses and promote new ways of living and working. Our ambition is conveyed by each of our 150,000 employees in 70 countries. Together with our customers and partners, they form a community of imaginative builders who invent and build today solutions for tomorrow.2017 turnover: 65 billion Euros. Listed in Paris and Brussels (ENGI), the Group is represented in the main financial (CAC 40, BEL 20, Euro STOXX 50, STOXX Europe 600, MSCI Europe, Euronext 100, FTSE Eurotop 100, Euro STOXX Utilities, STOXX Europe 600 Utilities) and extra-financial indices (DJSI World, DJSI Europe and Euronext Vigeo Eiris – World 120, Eurozone 120, Europe 120, France 20, CAC 40 Governance). To learn more: www.engie.com
FLASHNET is a fast-paced tech company that integrates the latest IT, energy and telecommunications technologies into hardware and software solutions, creating and implementing intelligent systems for smarter cities and better infrastructure. Founded in 2005, FLASHNET is a leader in intelligent utility management systems, with worldwide operations. (www.flashnet.ro)
inteliLIGHT® is a smart street lighting control solution that offers detailed lamp-level management capabilities (ON/OFF, dimming, real-time reporting) over multiple IoT communication technologies. In-depth grid awareness is obtained through accurate utility-grade readings of any changes occurring along the grid, reducing energy loss and offering advanced maintenance optimization tools. Furthermore, inteliLIGHT® is integrated with Smart City management platforms and offers support for further Smart City development. (www.inteliLIGHT.eu)