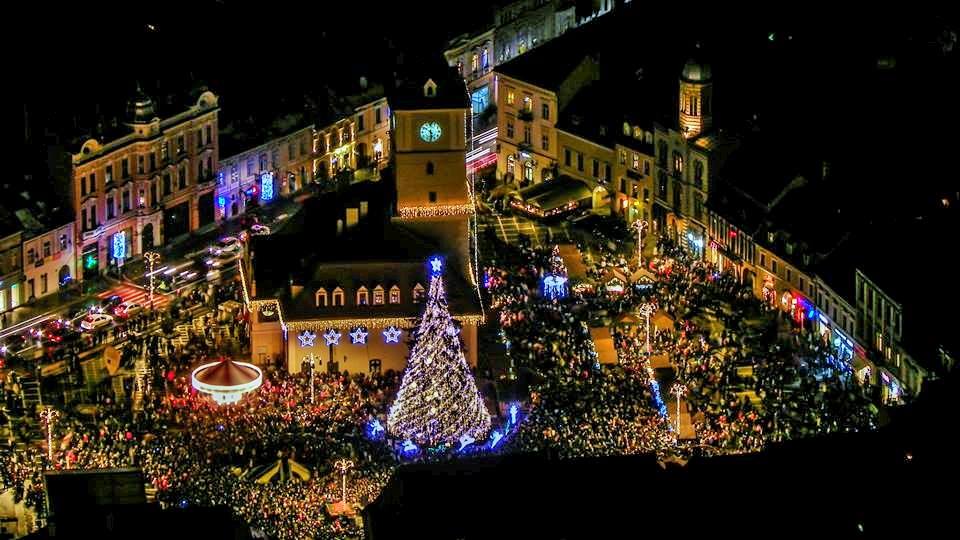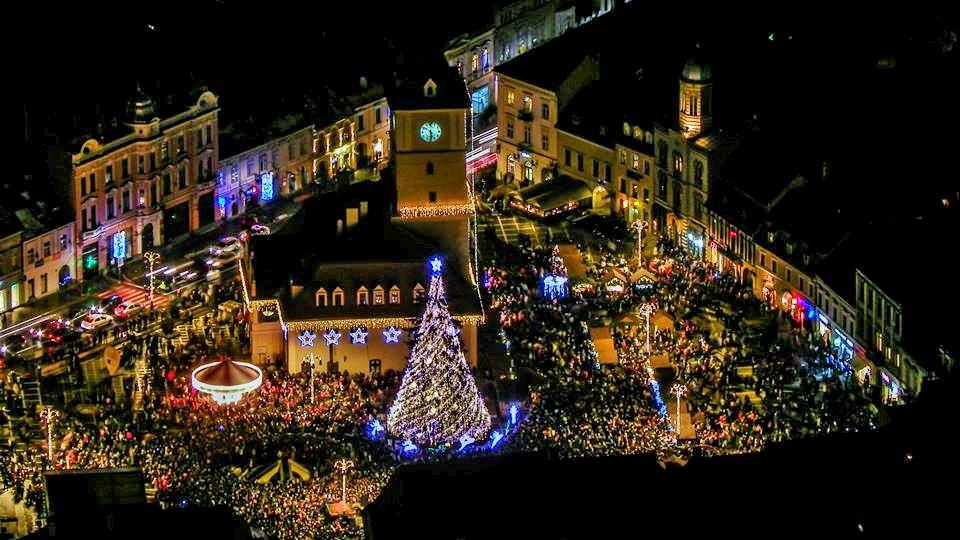 Brasov, Romania – Flashnet was appointed to perform the Holiday lighting smart management of one of Romania's main touristic cities, attracting more than half million tourists per year. Brasov is constantly trying to improve its image and presentation and Flash Group, the utility management company covering the entire street lighting infrastructure, has chosen inteliLIGHT® for managing this year's magical winter lights.
The project, named "Brasov Fairytale City", will cover the entire medieval old center and the main boulevards, offering a festive look to this medieval Transylvanian city. Besides remote ON/OFF management and malfunction alerts, inteliLIGHT® introduces LoRaWAN™ communications and new functionalities that will be tested during this winter season.
Traditionally, ornamental lighting is controlled together with legacy street lighting, all being turned ON and OFF at the same time. This year in Brasov, the festive lights can be more spectacular, as they can be controlled independently. Legacy street lighting will be turned off in some parts of the city, to emphasize the Holiday lighting. Furthermore, segments of the lighting project can be lit up even during the day and there are real-time alerts available for any malfunction.
The endeavor was made possible by the existing LoRaWAN™ infrastructure and the new inteliLIGHT® LoRaWAN compatible streetlight controllers, allowing fast system installation and without any infrastructure prerequisites. Compared to classic PLC and Mesh RF/GPRS communication technologies, LoRaWAN™ compatible control systems can cost-efficiently manage, with only one RF base station, up to 5.000 streetlight controllers in a range of up to 5 km (depending on urban density and specific communication bandwidth requirements). Practically, maximum result with a minimum amount of deployment effort.
About LoRaWAN™:
The technology utilized in a LoRaWAN™ network is designed to connect low-cost, battery-operated sensors and actuators over long distances, in conditions that were previously too challenging or cost prohibitive to connect. With its unique penetration capability, a LoRaWAN gateway deployed on a building or tower can connect to sensors more than 10 miles away or to water meters deployed underground or in basements. LoRaWAN™ offers unique benefits in terms of bi-directionality, security, mobility and accurate localization. Furthermore, very fast and low-cost deployment and operation encourage IoT initiatives globally.
About FLASH Group:
Flash Group and Flash Lighting Services S.A. have been providing innovative street lighting integrated solutions for more than 15 years (audit & surveys, engineering, equipment, installation works, management and financing solutions). The company manages the lighting services in several important cities in Romania: Constanţa (since 2001), Iaşi and Botosani (since 2005), Braşov, Buzau and Tulcea (since 2006), Alba Iulia and Calarasi (since2012).
About inteliLIGHT®
inteliLIGHT® is a reliable remote street lighting management solution developed by Flashnet. It ensures that the right amount of light is provided where and when needed, encouraging better resources management and sustainability. By upgrading your existing street lighting infrastructure, you not only save money and improve efficiency, but also transform the existing distribution level network into an intelligent infrastructure for the future. (www.https://intelilight.eu)
About Flashnet:
FLASHNET is a fast paced tech company that integrates the latest IT, energy and telecommunications technologies into hardware and software solutions, creating and implementing intelligent systems for smarter cities and better infrastructure. Founded in 2005, FLASHNET is a leader in intelligent utility management systems, with worldwide operations. (www.flashnet.ro)