Dutch cities decided to choose
inteliLIGHT's

ZHAGA NB-IoT smart lighting controllers to improve urban living and enhance public safety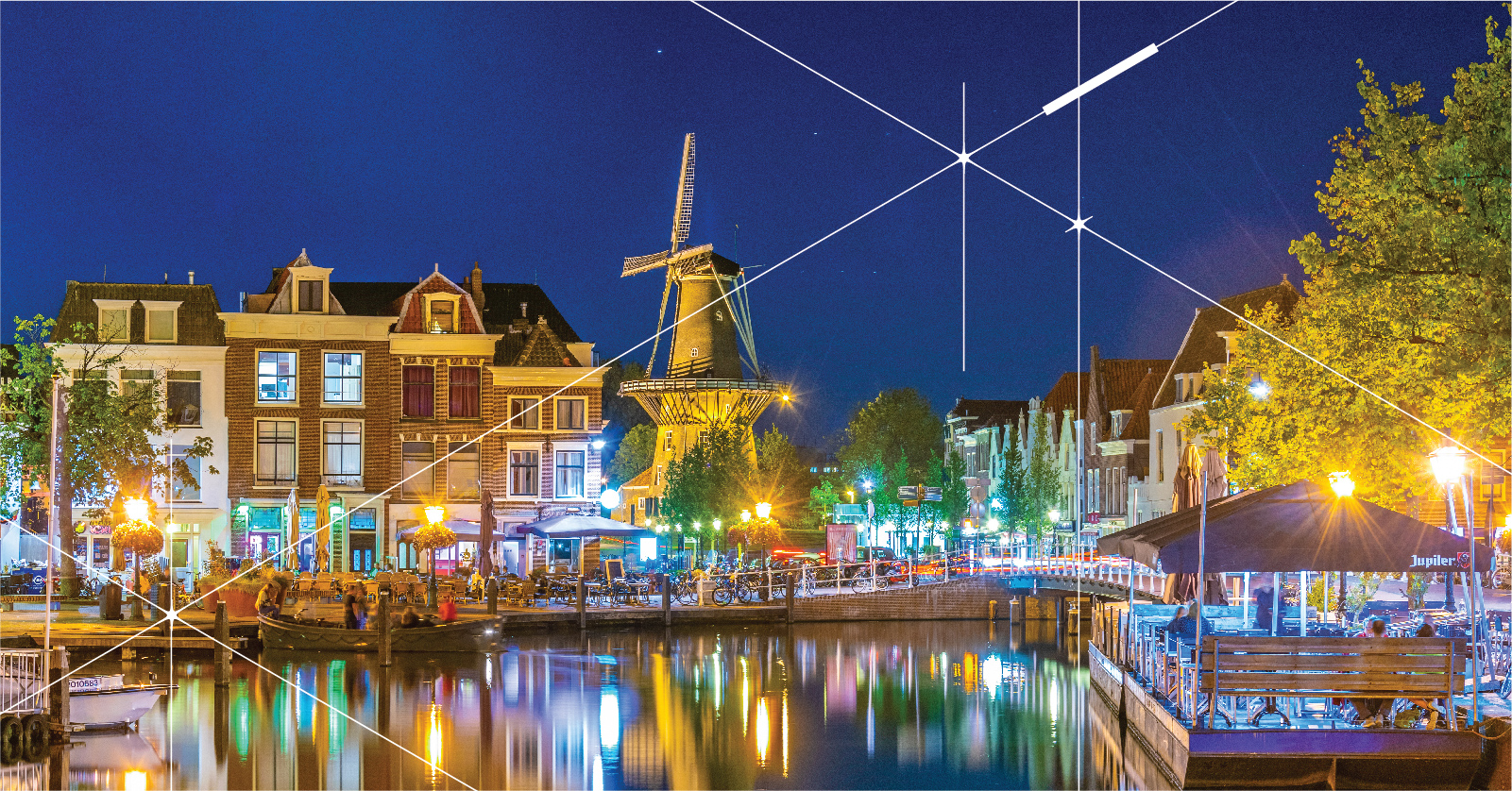 It is not the first time when one of the low countries gives its vote of confidence to Flashnet's street lighting technology. Recently, in 2021, Flashnet's smart lighting solution, has been nominated by Sibelga, among selected suppliers, for a contract in Brussels (Belgium) that will run for the next 10 years. Now it's Netherlands' turn to tackle urban challenges with inteliLIGHT.
The liveability and safety of Dutch cities have improved tremendously over the past few decades, with cities being at the forefront of the transition towards a green economy and launching all kinds of sustainability initiatives that put innovation and quality of urban life first.
Being a nation known for embracing a bicycle culture, municipalities work closely with international business and research communities to adopt new initiatives applicable to mobility, sustainability and safety. Therefore, the combination of the city's good technology infrastructure and IoT awareness provided the right platform for innovation and for the implementation of the inteliLIGHT smart street lighting solution with the support of Finnish integrators Siptronix Oy, our local partner.
The project uses GSM cellular technology for carrier-grade security and reliability, with excellent penetration and faster communication regardless of the urban density. As far as the controllers are concerned, the most suitable choice proved to be Zhaga controllers. With a low visual profile, ZHAGA NB-IoT compatible luminaire controllers can be easily and securely mounted on any compatible lamp, reducing deployment time and costs. Furthermore, the NB-IoT controllers provide a very convenient GSM communications fallback, with 10 years of communication included (no recurrent communication costs).
Thanks to the system's features (autonomous operation based on predefined astronomic calendar and/or external light level sensor, remote real-time ON/OFF control, in-depth grid awareness), the city can now take advantage of a series of benefits: from a better lighting awareness to reduced pollution, energy savings and safer streets.
Not only that the inteliLIGHT solution is going to create a livable and safe city, but it will also provide a flexible lighting system that can be adapted for community events all through the year. This way, the smart street lighting solution brings unexpected benefits: enhancing the identity and the culture of the city by supporting cultural events, while increasing the feeling of safety in areas that people perceive as unsafe due to poor lighting.
Also, as NB-IoT smart street lighting can be easily integrated with other smart solutions, the city will be able to adopt new applications in the future, like systems for traffic management or air quality monitoring, further improving their smart city infrastructure.
inteliLIGHT® is a smart street lighting control solution that offers detailed lamp-level management capabilities (ON/OFF, dimming, real-time reporting) over multiple IoT communication technologies. In-depth grid awareness is obtained through accurate utility-grade readings of any changes occurring along the grid, reducing energy loss and offering advanced maintenance optimization tools. Furthermore, inteliLIGHT® is integrated with Smart City management platforms and offers support for further Smart City development. (www.inteliLIGHT.eu)
FLASHNET is a fast-paced tech company that integrates the latest IT, energy and telecommunications technologies into hardware and software solutions, creating and implementing intelligent systems for smarter cities and better infrastructure. Founded in 2005, FLASHNET is a leader in intelligent utility management systems, with worldwide operations. (www.flashnet.ro)