When street lighting
leaders

join forces, they light the way for today's smart cities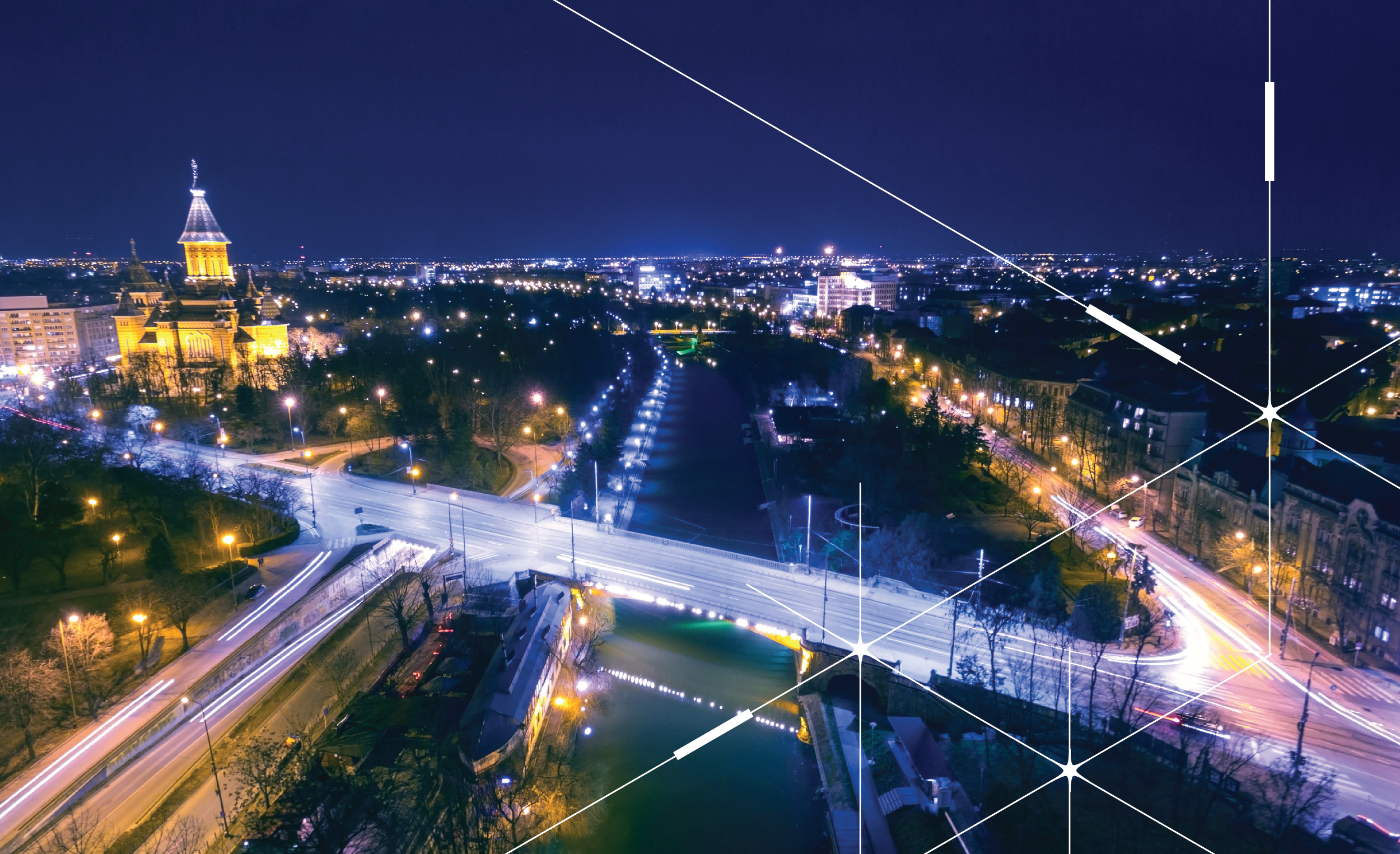 ELBA-COM, the sales representative of ELBA – the Romanian leader for lighting fixtures manufacturing – has joined forces with FLASHNET and inteliLIGHT to develop smart street lighting systems and lay ground for further smart city development in Europe.
In 2021, ELBA celebrates 100 years since its establishment. The company has grown to be the main lighting fixture manufacturer in Romania, covering general and specialized lighting, including traffic lighting, emergency lighting and, of course, street lighting.
FLASHNET, part of ENGIE since 2018, is a much younger company (established in 2007), but a market leader of its own. FLASHNET is – under its brand inteliLIGHT – the largest street lighting control solution manufacturer in Romania and one of the most prominent solution suppliers worldwide.
ELBA-COM's and FLASHNET collaboration started mid-2019, when ELBA-COM, part of ELBA group, concerned with the distribution of ELBA products nation-wide, also with the design and execution of lighting systems, began to include inteliLIGHT connected lighting in their street lighting projects in Romania. What started as a test in Râmnicul Sărat (Romania) in August 2019 has become since the one of the most prolific smart lighting partnerships in Romania, with other 5 ongoing projects and many more about to start in the following months.
The partnership opens a layer of synergy between the two companies, combining the LED technology already used by ELBA with their street lighting fixtures with the characteristics of modern remote lighting control solution. This way, besides the lifetime and energy savings benefits, the municipalities can access a new range of benefits.
Street lighting operates autonomously (including on/off and dimming, based on an astrological calendar or motion sensing), while in-depth grid awareness encourages optimization and real-time malfunction alerts improve maintenance efficiency. In the long run, it helps cities reach their efficiency and sustainability objectives, while significantly improving the lighting service quality.
Due to its lamp-level control, inteliLIGHT® acts as a smart-city facilitator, keeping the lighting grid powered up even during the day, offering continuous supply for other sensors and applications. Furthermore, the inteliLIGHT® Streetlight Control software comes with native southbound and northbound API connectivity and proved integration experience with smart city management software suites, lighting the way for Smart City interactions.
In the last year, several thousand smart lamps were installed by ELBA-COM specialists, using individual lamp control or segment control with GSM or LoraWAN communications.
"We appreciate that ELBA – the major lighting fixture manufacturer in Romania, with such an impressive tradition – through it's sales representative ELBA-COM has decided to work with FLASHNET to develop smart street lighting projects. Moreover, having installed several projects even in the last 2 months, despite of COVID-19 isolation, is the vivid proof that our partnership is strong and will support smart city development even in this doubtful and difficult times", said Lorand Mozes, Flashnet CEO.
With almost 100 years of experience in developing and manufacturing general and automotive lighting products, ELBA Lighting is on track to become a key player in the European lighting market.
inteliLIGHT® is a smart street lighting control solution that offers detailed lamp-level management capabilities (ON/OFF, dimming, real-time reporting) over multiple IoT communication technologies. In-depth grid awareness is obtained through accurate utility-grade readings of any changes occurring along the grid, reducing energy loss and offering advanced maintenance optimization tools. Furthermore, inteliLIGHT® is integrated with Smart City management platforms and offers support for further Smart City development. (www.inteliLIGHT.eu)
FLASHNET is a fast-paced tech company that integrates the latest IT, energy and telecommunications technologies into hardware and software solutions, creating and implementing intelligent systems for smarter cities and better infrastructure. Founded in 2005, FLASHNET is a leader in intelligent utility management systems, with worldwide operations. (www.flashnet.ro)
A global energy and services group, focused on three core activities: low-carbon power generation, mainly based on natural gas and renewable energy, global networks and customer solutions. In 2018, ENGIE announced the acquisition of 60% of Flashnet, a Romanian Internet of Things (IoT) company. Thanks to its solutions, many cities, both large and small, already enjoy all the benefits of smart public lighting networks. Learn more on www.engie.com.