inteliLIGHT smarts up the street lighting for yet another
community

in Greece, in the Elis region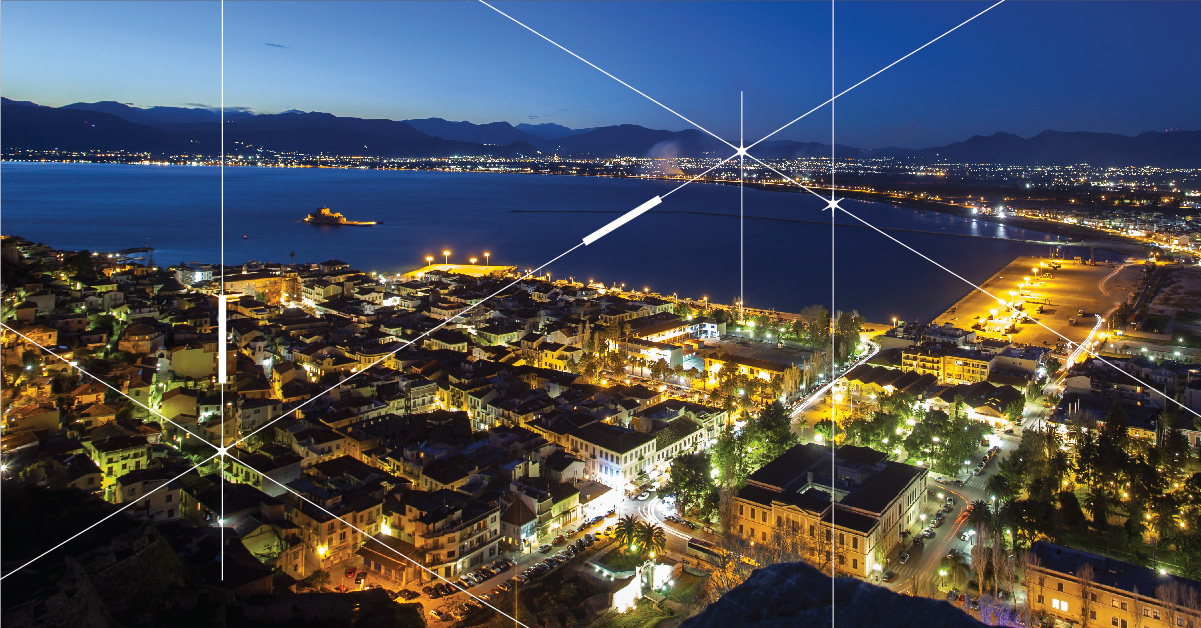 Decreasing energy and maintenance costs, better grid awareness and faster repairs are some of the benefits that convinced a Greek town to upgrade its lighting network. Flashnet together with Sirecled responded to the lighting infrastructure needs of the town by installing a combination of inteliLIGHT individual lamp controllers and FRCM lighting cabinet controllers.
Over the last few years, Greece has shown an increasing interest in upgrading its lighting infrastructure by using smart technologies – and inteliLIGHT is one of the solutions of choice throughout the country. After deploying more than 4000 luminaires for a highway smart lighting project in Greece and in other large cities like Patras, the inteliLIGHT solution proves once again its capabilities and flexibility in a Western town in Greece.
With its plains crossed by a spectacular river, Elis is a historic region in western part of the Peloponnese peninsula that proved nature, history and technology can coexist and thrive together. How did the town do that? By implementing a solution that uses data and technology in a way that addresses both the local needs of the community and the development plans of the town.
After assessing the local circumstances, the municipality chose Flashnet's inteliLIGHT smart street lighting management solution for both individual lamp and cabinet control.
On one side, the town can improve infrastructure control at low implementation costs by enabling segment-level lighting for a cluster of lamps: segment on/off, autonomous operation and detailed street lighting grids electrical parameters.
On the other side, the individual lighting control comes with extra benefits for the town. It allows individual lamp control and dimming, the analysis of different electrical parameters at streetlight level, while makes it easier for the town to deploy additional smart city sensors and actuators.
As far as the streetlight controllers are concerned, the town has opted for NEMA sockets – standardized connectors that can be easily mounted on the lamp through plug-and-play installation, which will keep deployment costs at a minimum. The NEMA luminaire controllers use LTE-M connectivity and will be installed with the support of Sirecled's implementation teams, a lamp manufacturer with a rich experience in outdoor lighting. Supported by all major mobile operators, the LTE-M network co-exists with 2G, 3G, and 4G mobile networks and benefits from all the security and privacy features of pre-existing carrier-grade connectivity. Furthermore, the controllers come with a very convenient GSM and NB-IoT fallback, with 15 years of communications included.
The entire lighting network connects and communicates with the inteliLIGHT Streetlight Control Software, which allows the administration to control and monitor the street lighting of the desired areas. The result is a reduced energy consumption through the intelligent ON/OFF switching and progressive dimming and maintenance optimization, thing which translates into clear benefits for the community and municipality – a clear environment decreased operational costs and a better quality of the lighting service are only a few of them.
A Greek company founded in 2013 by group of International Industrial investors in order to acquire the LED unit of the Italian company SIRECLED SRL aiming to establish a technologically innovative production base in Greece for LED lighting luminaires. The pioneering profile of Sirecled Hellas SA in LED lighting technology stems from the extensive experience of the Italian company Sirecled Srl. Capitalizing on the 20 – years of engagement of Sirecled with thermoelectric engineering with numerous applications ranging from industrial projects to the specialized sectors of military practices and aeronautics, the company managed to transfer all this engineering knowledge to the development of innovative LED luminaires. www.sirecled.com
FLASHNET is a fast-paced tech company that integrates the latest IT, energy and telecommunications technologies into hardware and software solutions, creating and implementing intelligent systems for smarter cities and better infrastructure. Founded in 2005, FLASHNET is a leader in intelligent utility management systems, with worldwide operations. (www.flashnet.ro)
inteliLIGHT® is a smart street lighting control solution that offers detailed lamp-level management capabilities (ON/OFF, dimming, real-time reporting) over multiple IoT communication technologies. In-depth grid awareness is obtained through accurate utility-grade readings of any changes occurring along the grid, reducing energy loss and offering advanced maintenance optimization tools. Furthermore, inteliLIGHT® is integrated with Smart City management platforms and offers support for further Smart City development. (www.inteliLIGHT.eu)