Part of
ENGIE
's global effort for Inclusive & Sharing Cities, FLASHNET features inteliLIGHT® smart streetlight control during Barcelona Smart City Expo World Congress in November 2018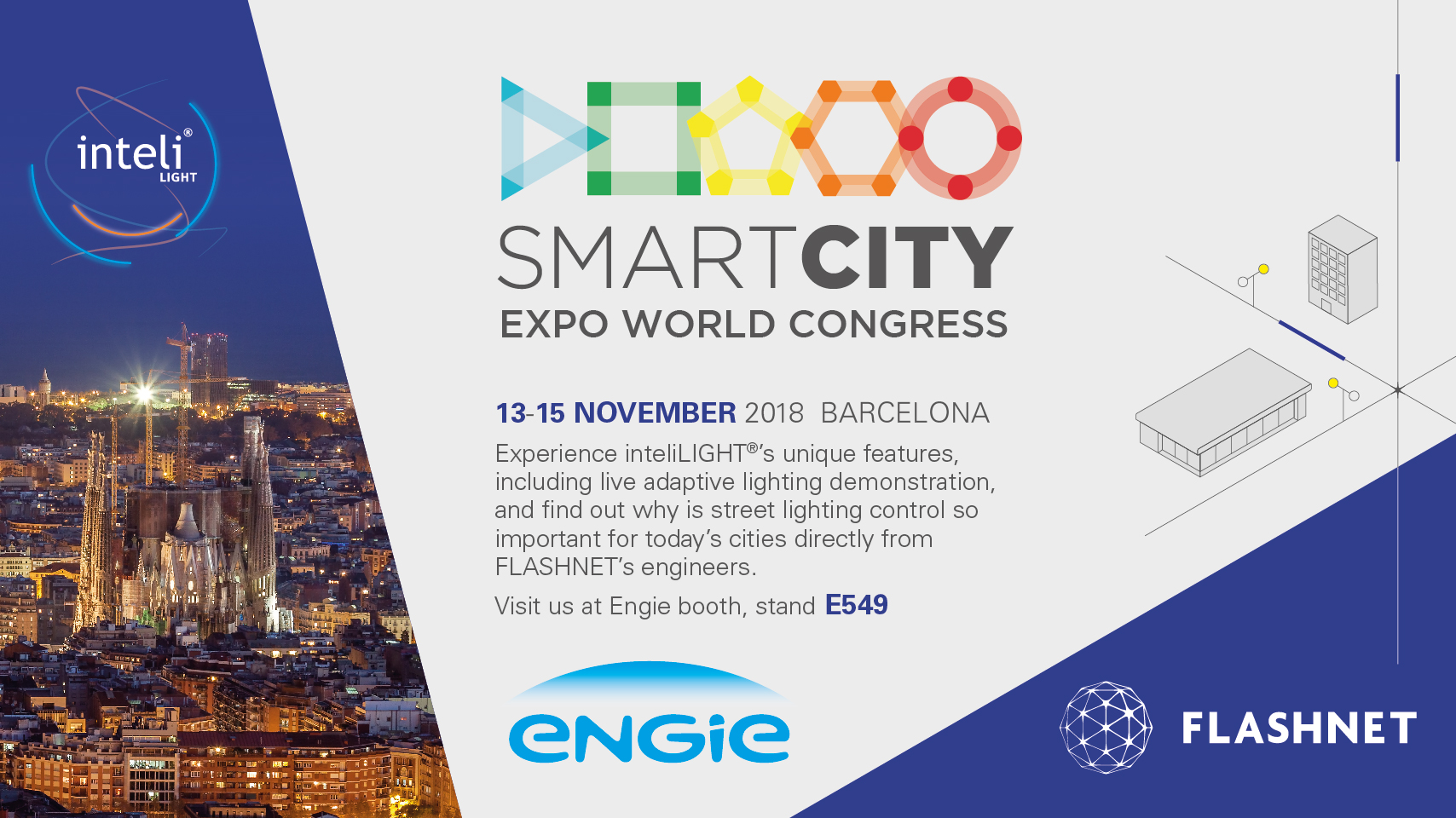 inteliLIGHT's smart street lighting solution has already been experienced by millions of people in hundreds of cities on 5 continents. Experience inteliLIGHT's unique features and find out why is intelligent street lighting control so important for today's cities directly from Flashnet's engineers in Barcelona, 13-15 November 2018, stand E549
In the largest SCEWC edition yet, over 20.000 professionals, more than 400 speakers, leaders and innovators from over 700 cities around the world will be in Barcelona in 13-15 November 2018 to debate, compare, share ideas and experience technologies for a smarter and more sustainable world.
Smart City Expo World Congress encourages participants to generate synergies and is based around the values of social inclusion and empowerment, dedicated to promoting awareness, understanding and critical reflection between inhabitants of different cities worldwide, all in a climate of mutual respect and caring. Sustainability is a top priority, with the Towards Zero Waste initiative aiming to reduce waste and increase efficient use of resources across the event.
All participants will be able to attend conferences, as well as experience and discover different innovative technologies and solutions aimed at creating a sustainable future. With so many professionals, experts and innovators, the event in Barcelona will be the perfect place to identify new business opportunities related to Smart Cities, as well as consolidate or develop new partnerships, find out about best practices and test existing solutions.
As one of the most visible and impactful city services, smart street lighting will also be in focus this year. Outdoor lighting is a critical city service that influences every citizen's lifestyle and comfort, and hundreds of cities all over the world have already tested and implemented connected lighting solutions aiming for both energy savings and more reliable infrastructure.
inteliLIGHT®, the street lighting control built by FLASHNET and promoted by ENGIE, combines reliable lighting control with third-party integration support, connecting more than streetlights. The integration with multiple IoT communication technologies (wired LonWorks PLC or wireless IoT technologies like LoRaWAN, NB-IoT, LTE-Cat-M1 or Sigfox) helps both implementation efficiency and operating reliability, offering at the same time an array of options for city managers. Furthermore, the system is already integrated with major city management platforms, including Livin' from ENGIE or CISCO CDP.
Street lighting operates autonomously (including on/off and dimming, based on astronomical calendar or motion sensing), while in-depth grid awareness encourages optimization and real-time malfunction alerts improve maintenance efficiency. On the long run, it helps cities reach their efficiency and sustainability objectives, while significantly improving the lighting service quality.
We are a global energy and services group, focused on three core activities: low-carbon power generation, mainly based on natural gas and renewable energy, global networks and customer solutions. Driven by our ambition to contribute to a harmonious progress, we take up major global challenges such as the fight against global warming, access to energy to all, or mobility, and offer our residential customers, businesses and communities energy production solutions and services that reconcile individual and collective interests. Our integrated – low-carbon, high-performing and sustainable – offers are based on digital technologies. Beyond energy, they facilitate the development of new uses and promote new ways of living and working. Our ambition is conveyed by each of our 150,000 employees in 70 countries. Together with our customers and partners, they form a community of imaginative builders who invent and build today solutions for tomorrow.2017 turnover: 65 billion Euros. Listed in Paris and Brussels (ENGI), the Group is represented in the main financial (CAC 40, BEL 20, Euro STOXX 50, STOXX Europe 600, MSCI Europe, Euronext 100, FTSE Eurotop 100, Euro STOXX Utilities, STOXX Europe 600 Utilities) and extra-financial indices (DJSI World, DJSI Europe and Euronext Vigeo Eiris – World 120, Eurozone 120, Europe 120, France 20, CAC 40 Governance). To learn more: www.engie.com
FLASHNET is a fast-paced tech company that integrates the latest IT, energy and telecommunications technologies into hardware and software solutions, creating and implementing intelligent systems for smarter cities and better infrastructure. Founded in 2005, FLASHNET is a leader in intelligent utility management systems, with worldwide operations. (www.flashnet.ro)
inteliLIGHT® is a smart street lighting control solution that offers detailed lamp-level management capabilities (ON/OFF, dimming, real-time reporting) over multiple IoT communication technologies. In-depth grid awareness is obtained through accurate utility-grade readings of any changes occurring along the grid, reducing energy loss and offering advanced maintenance optimization tools. Furthermore, inteliLIGHT® is integrated with Smart City management platforms and offers support for further Smart City development. (www.inteliLIGHT.eu)