inteliLIGHT®
FRB-110

intelligent communicator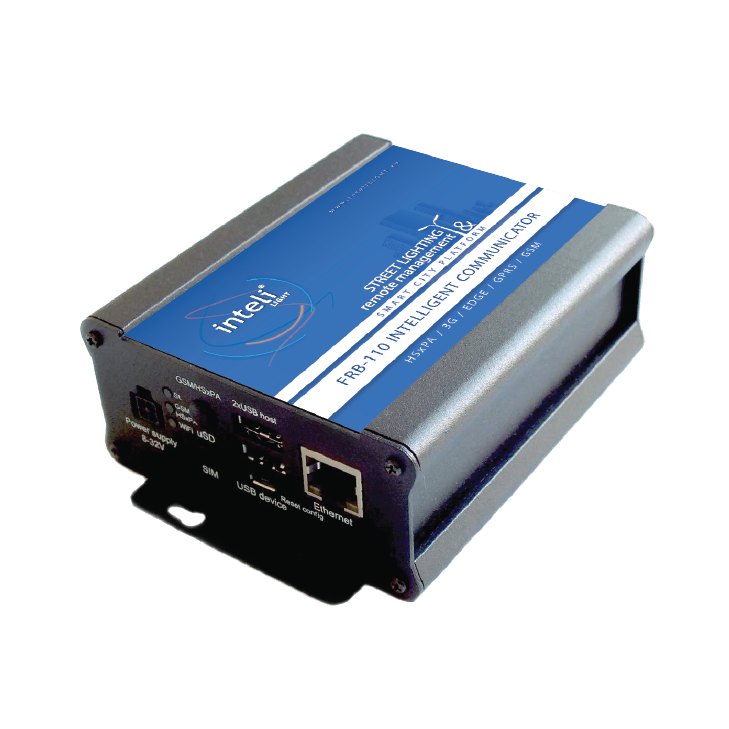 inteliLIGHT® FRB-110 intelligent communicator is the heart of  the REMOTE TERMINAL UNIT, the local intelligence unit integrated within the lighting cabinets.  It ensures:
DATA PROCESSING – concentrates and processes the data received from other components (controllers, FPC Data Concentrator, Lonworks PLC® Modem, FNM network analyzer and FVD voltage detector) to be sent to inteliLIGHT® central management software.
COMMUNICATION – provides secure connection between street light controllers, RTU elements and central management software.
SAFETY – ensures the system functionality in the case of communication failure: managing luminaries in concordance with pre-programmed criteria, saving data logs and the history of events that took place along the grid and synchronizing with the central management software once the connection is re-established.
Works as a part of the inteliLIGHT® street lighting management system.
Provides the functions of luminaires even when data connection is down
Saves the data log and records history of network events, reports all to the inteliLIGHT® StreetLight Control NMS (save and record features are available locally when communication is down, data is synchronized when the communication is online again)
4 GB MicroSD standard storage capacity
Provides real-time data processing of all the information coming from the RTU elements, PLC and/ or RF connected street light controllers and smart city sensors
Uses IP-based connectivity based on secure VPN connection with the central management software
Allows local user-control interface
Coordinates the profiles and the grouping of luminaires, commanding them in concordance with their respective criteria
Supports multiple redundant backhaul connections
Detects cable cut error when the network is powered with software intelligence
Designed to be installed inside the inteliLIGHT® Remote Terminal Unit
Network connection of wired and wireless metering systems
Battery powered real time clock
Standard SOAP/ XML communication between FRB-110 and central management software
Processor
High performance industrial processor (400 MHz, 400 MIPS)
Data storage
8Mbyte Flash, 128Mbyte NAND Flash, 128Mbyte SDRAM
External data storage
connection: MicroSD memory card
Security functions

Built-in operation monitoring
Mobile connection recovery (in case of network problems the automatically reconnect the module to the network and check the communication health)
SNTP time handlink
SIM PIN-code defense
Certificate based secure VPN connection
Logging of system operation

Connectors

1x Ethernet port (10/100, RJ45)
2x USB 2.0 connector(High Speed)
1x Micro-SD memory card slot (max. 32 GB)
1x Push insert SIM-card bay
4-pin Microfit power connector
3x SMA-M 50 Ohm antenna connector (WiFi, 2G-3G)
Internal conn. for expansion modules

Power supply

6-30 VDC, 4-pin Microfit connector
Required: 12V 2A power adapter
Power consumption: max 8W

Optional accessories

SMA antenna, DIN-rail fix. Unit
RS232 extension module (serial port)
RS232/RS485 module (Modbus TCP, RTU, M-bus master communication)
868MHz ShortRF radio expansion module (AMR meters, Wireless M-bus)
IO-extender board (for analog/digital input and output lines)
Zigbee module (for wireless sensors)

Case
Robust aluminum case – IP 51 protection
Dimensions (l x w x h)
95x45x130mm
Operating temperature
between -30°C and +65°C at 5 – 95% rel. humidity
Certifications
CE, R&TTE 99/5/CE, FCC, ROHS