inteliLIGHT® FRCM LoRaWAN™ lighting panel control & monitoring unit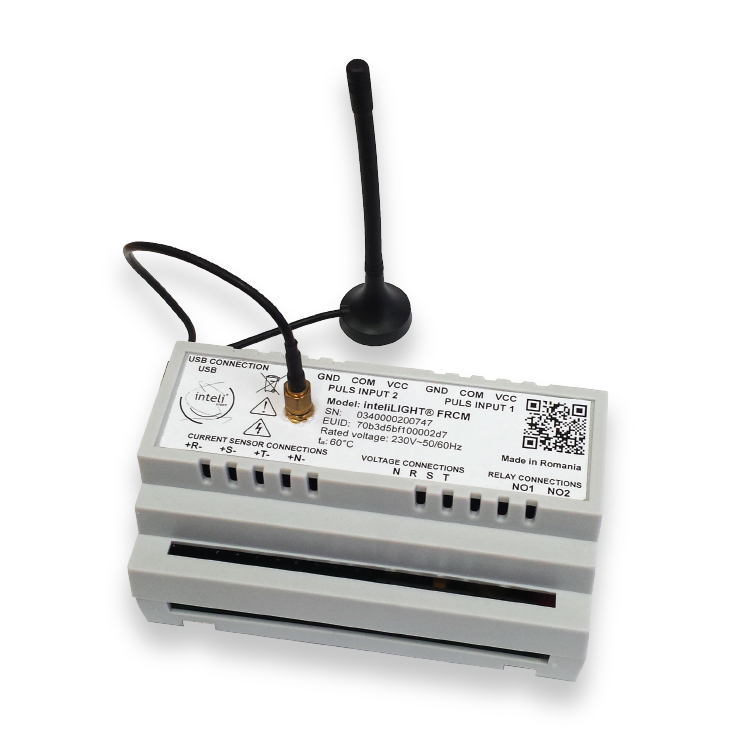 Installed inside the feeder pillar, it is designed to provide autonomous operation for street lighting installations and to carry out three phase measurements and analysis of electrical parameters in street lighting grids.
Autonomous operation based on prede­fined astrologic calendar and/or external light level sensor (digital INPUT).
Remote real-time ON/OFF control.
Measures parameters in street lighting grids: power factor, active/ reactive/ apparent power, voltage, current, frequency, daily active/ reactive energy consumption.
Offers configuration options for: current transformer ratio, voltage/power thresholds and daytime/nighttime consumption thresholds.
Reports any malfunctions and errors to the central server in real-time: under/over power, under/over voltage, phase failure.
Inputs: 2 x Digital input.
Output: 1 x Dry contact relay output (230V, max 12A).
Product description
Street lighting panel control and monitoring unit
Power supply
Direct connection
Power consumption
Max. 3 W
Communication interface
LoRaWAN™
Voltage input range
0V – 265V / 45-65 Hz
Input

R, S, T voltage inputs
R, S, T, N current inputs
2 x Digital input

Power network type
Three phase electric network and Neutral
Current transformers
Standard X:5, where X is user definable
Operating temperature
-25°C to + 80°C
Connectors
Lead wires or 2.5 mm²  terminals
Output
1 x Dry contact relay (230V, max 12A)
Battery operation time
~ 6 hours
Dimensions (L x W x H)
70 x 90 x 63 mm
Certifications
IEC 60068-2-1, IEC 60068-2-2, ANSI/IEC 60529-2004
voltage
current
active power
reactive power
apparent power
active energy
reactive energy
power factor
frequency
current transformer ratio
voltage/power / current thresholds
daytime/ nighttime consumption threshold
over/ under voltage detection
over/ under power detection
over/ under current detection
unusual daytime/nighttime consumption
phase failure